Helping Seniors Live Connected Lives At Home
Now there's a new way to stay in touch and stay independent at home. Introducing the VTech CareLine™ home telephone and personal communication system.
Ideal for everyday conversations and emergency situations, the CareLine system was co-developed with leading experts in aging and technology. There are no monthly monitoring fees, installation costs or contracts. In fact, there's nothing else like it.
VOTE FOR CARELINE IN SENIOR LIVING AWARDS

Communication

Perfect for everyday conversations, the system comes with all the comfort, mobility and features you need to stay connected to family and friends.

Control

With three devices, you decide how you want to communicate — every day or in an emergency.

Safety

When you need help right away, the lightweight safety pendant is there for you. Plus, it's portable.

Convenience

Big buttons, large displays and speakerphones on all three devices make the system super easy to use.

Portable Safety Pendant
One-Button Emergency Calls

Program up to two phone numbers to call for help with one-button or voice-activated dialing—connect directly with 9-1-1, family or a friend.

No Monthly Fees

Unlike other safety pendants, the CareLine pendant doesn't require a subscription to a third party. Use it as often as you want with no monthly monitoring fees.

Portable

Lightweight and compact, the pendant comes with convenient wearing styles and a built-in-speakerphone so you can take base or handset calls with you—no matter what you're doing.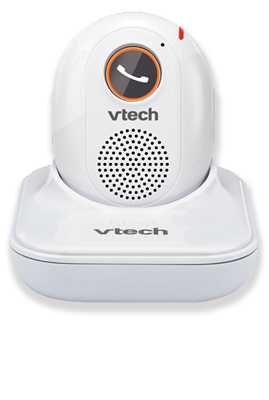 Big-Button Corded Phone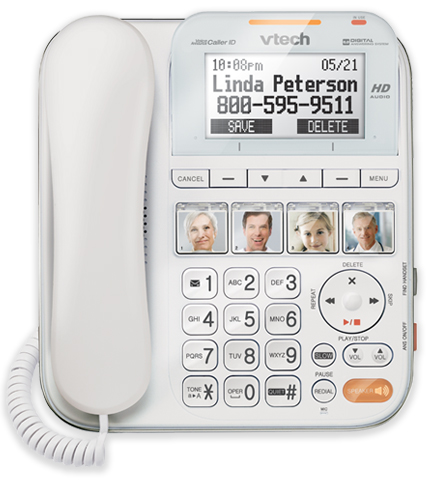 Photo Dials

Never forget whose number is whose. Program four frequently dialed phone numbers and attach a photo to each for convenient, one-touch dialing.

Voice Announce® Caller ID

Always know who's calling, even when you're in the other room. All devices announce the names of your callers through the speakerphones—including the safety pendant.

Digital Answering System

Missed calls? The touch of a button retrieves all your messages.

Cordless Handset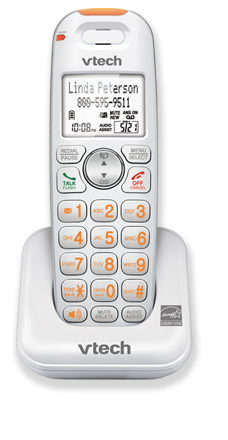 Audio Assist®

Need more help hearing what's being said? Use Audio Assist to temporarily boost up the volume while you're on a call.

Large Screen

The cordless handset features a large, high-contrast display to make it easier to see who's calling.

Big Buttons

Oversized, lighted buttons make the handset super easy and comfortable to use.

CareLine™ is a trademark of VTech Communications, Inc.
Voice Announce® is a registered trademark of ClassCo, Inc.
Audio Assist® is a registered trademark of VTech Communications, Inc.