Connect to Cell™ Technology
Make and receive cellular calls with the ease and comfort of a home phone system—avoid the mad dash to catch a cell call before it goes to voicemail. Some Bluetooth® enabled cell phones offer the ability to download your cellular phonebook directory to easily share all your contact information. Our Bluetooth phones are the perfect solution for for cellular only households as landline service is not required!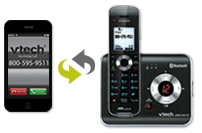 Make & Recieve Landline & Cellular Calls
VTech Connect To Cell™ phone systems make it easy to keep you connected. With the ability to make & recieve both cellular calls and landline calls you will never be left in a mad dash searching for your cell phone again!
Extend your Cellular Coverage
By placing your cellular phone in your home where you get the greatest signal you can leverage this signal with the mobility of all the handsets of your Connect To Cell™cordless phone system.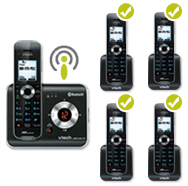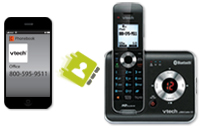 Download Cell Phone Directories
With your Bluetooth® enabled cell phone, Connect To Cell™ phone systems have the ability to sync up your cell phone contacts to your home phone system alowing you to choose the comfort of your cordless phone for placing calls to all your cellular contacts.
No Landline Required!
For those who have chosen to cut the home phone service from their budget the Connect to Cell™ phone system is the perfect solution for a home phone system for cellular only households!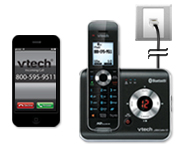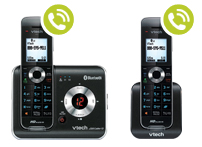 Virtual 2-line Phone System
With landline and cellular line capabilities the Connect To Cell™ phone system allows you to make and receive calls on both the landline and cellular lines at the same time. No longer do you need to wait for a someone to finish a call, just call out or recieve a call on your other line!