News Coverage
An End to the Dead Spot
July 30, 2013
{This article is sponsored by VTech. All opinions are my own and 100% honest}
I live in the middle of scenic nowhere. And while I really enjoying living in the country – for the most part – there are some things about it that drive me totally crazy.
One of the biggest is that cell phone reception in my house is crappy at best.
I can literally take one step and drop the call I was on.
Not ideal considering my cell phone is my only phone. It makes for very frustrating phone conversations, lots of missed calls, and short conversations because I really don't want to stand in the corner of my dining room for more then a few minutes (and yes, you have to stand. If you sit, the call drops!).
When the chance arose to check out the VTech Connect to Cell Phone System, I was beyond excited.

Connect to Cell two handset models DS6511-2 (MSRP: $49.95) and DS6521-2 (MSRP: $59.95) are priced competitively, enhance the cellphone experience in the home, and are a great option for those without a landline. Both models connect with up to two cellphones and store up to 200 cellphone directory entries, so mobile calls are accessible from the comfort of a cordless handset. Users can add up to five handsets on both models, effectively ending the mad dash to find the cellphone, because the call can be answered from any of the handsets. An added benefit for those consumers who like a central home answering machine for landline calls, the DS6521-2 adds a digital answering system with up to 14 minutes of recording time.
When the system arrived I set it up right away. I was really happy to learn that I didn't need a landline to use the phone – it will work just plugged into an outlet. But if you do have a landline this will work for both that and your cell phone.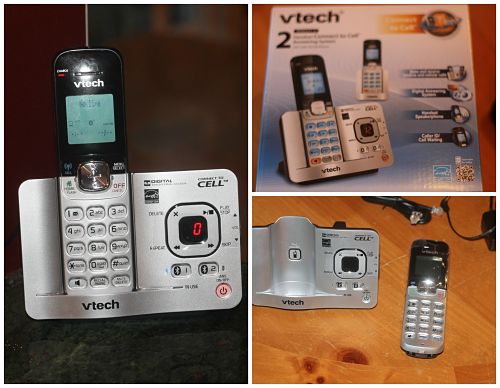 I have moved the base around a few times to find the perfect spot in the house — well dining room, really. I am planning on having Jay mount the base a bit higher up the wall so the reception will be a touch better. But I am really happy with it so far.
awesome features:
Make and Receive Landline and Cellular Calls
Connect to BLUETOOTH® wireless technology-enabled cellular phones to make and receive cellular calls with the ease and comfort of a home phone system. Avoid the mad dash to catch a cellular call before it goes to voicemail.
Eliminate Cell Phone Dead Spots at Home
Just place the base unit where cellular reception is best. Then enjoy the freedom to make and receive cell calls using your cordless handsets anywhere in your home.
Download and Store Your Cell Phone Directory
Store 200 directories from up to two different cell phones; no need to input names and numbers into your phone.
I made my first call to my mom – who can talk for hours and tends to have a hard time hearing me when I talk on my cell phone – as she said I sounded pretty clear the whole time. Even when I walked to the other end of the house to lay down for a bit … something that I usually cannot do when I'm talking on the phone.
great reasons to use a vtech connect to call phone system:
No more dropped calls in the home because you can place your cell where it gets the best service in your home, and take the landline with you from there.
Don't have to worry about missing a call because you can't hear your mobile phone or because it's at the bottom of your purse. It will ring through the home phone system!
Keep your cell phone directory on your cordless phone system
Handset speakerphone helps you accomplish other tasks while carrying on the conversation
One of my favorite things about using the VTech system is that I don't have to constantly have my phone near me so that I can hear it ring. It is nice to not worry about where it is all the time.
But I also really like that I can talk without worrying about having a cell phone too close to my head all the time. I have a special phone case that is supposed to redirect the radiation, but I figure that you can never be too safe with that.
And my kids are super excited that they can now get calls to on our new "house phone".
Available with an answering machine or without, this is an awesome phone. You can have two different cell phones connected through bluetooth on it, which is perfect for Jay and I. We have been really happy with the phone so far!
Interested in getting one for yourself? Check them on on the VTech website!