News Coverage
From Baby to Big Kid: 15 Nursery Items That Will Grow With Them
March 10, 2016
Prepping a nursery can be a doozy. As tempting as it is to reach for the cutesy baby decor (we're looking at you, rubber duck patterned wallpaper), the sensible side of you *knows* that it will feel outdated by the time your baby is walking. So, with the help of VTech, we've curated 16 items to decorate a nursery — and eventually, a kid's room — so they don't grow out of their room as fast as they grow out of their clothes.
One thing we love about VTech? When creating their products, they always prioritize sensibility and safety, but they also offer unexpected features that gives you more bang for your buck. Take the Safe&Sound® DECT 6.0 Digital Audio Baby Monitor with Open/Closed & Motion Sensors ($150): Not only does it have the open/closed and motion sensors to send you alerts, it doubles as a night light that projects the moon and stars onto the ceiling *and* plays a sweet lullaby for your little one. Choosing VTech products means resting a bit easier knowing your kiddos are safe and sound when you're not in the room.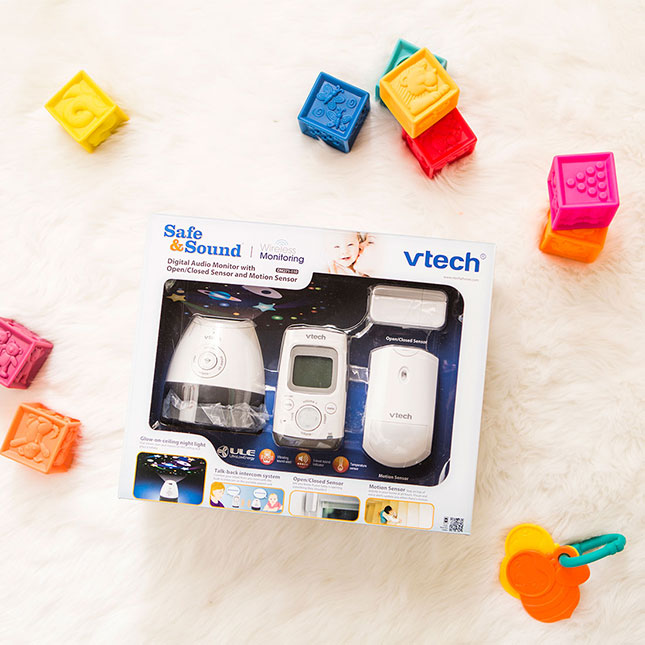 1. VTech Safe&Sound® DM271 Digital Audio Monitor ($150): This audio monitor goes above and beyond — it has a motion sensor and an open/closed sensor, both of which work on doors, cabinets and open space, so you'll get instant alerts if your little one is sneaking out for a late night cookie. What's more, it has a built-in glow-on-ceiling night light that projects a starry sky *and* plays a sweet lullaby perfect for nap time.