News Coverage
Give Your Child Independence and Keep Them Safe + #VTechBaby Twitter Party
February 16, 2015
This post is brought to you by VTech and The Motherhood. All opinions are my own.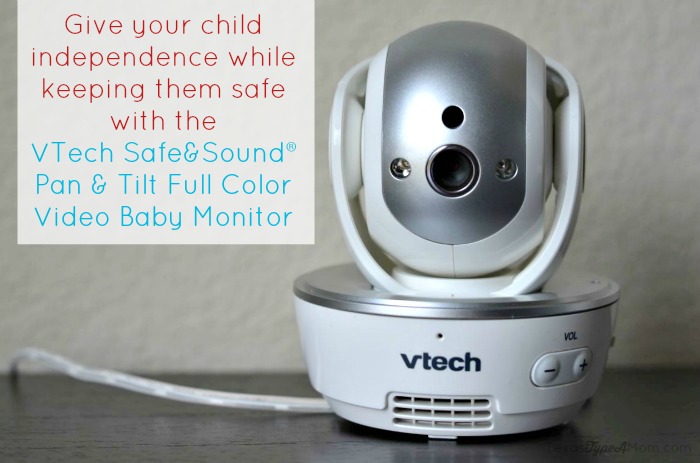 In the time we've been married, the longest we've ever lived in one home is the home we're in right now. We've been in this house for a little over 5 years. I like our house, I do. But this house wasn't our dream house by any stretch of the imagination. After two plane rides from Colorado with a 9 month old and a house that was sold out of state without another home, we were running out of options and time when on our way out of the last neighborhood we visited we saw a for sale sign. Overall, the house was nice – open floorplan, large lot, good school district, but off of a busy road and smaller than we would have liked.
Our 9 month old is now 6 and we have an almost 3 year old. The bigger they get, the more space they require. But with more space, that also means more freedom for the girls. But at 6 and 3, the girls aren't quite ready to be left to their own devices, especially for extended periods. Having a way to monitor the girls while they're playing in other parts of the house is essential to my peace of mind.
I've been told I'm the most laid back "girl mom" and it's true. My girls need their independence (with boundaries, of course) and I don't need to hover over them 24/7. We have a very open floorplan on the first floor of our house, but there's also a second story.
My solution to this problem?
A baby monitor…the VTech Safe & Sound® Pan & Tilt Full Color Video Baby Monitor to be exact.
This baby really does have it all and is a must have for new parents and parents of older children alike. Even without a baby this is a super affordable way to ensure your kids are doing what they're supposed to do while you get other things done. You could be downstairs folding laundry while your kids are upstairs playing harmoniously in their rooms. Well, maybe not harmoniously but at least you'll have a head's up when fights occur and can not only hear but see what's going on.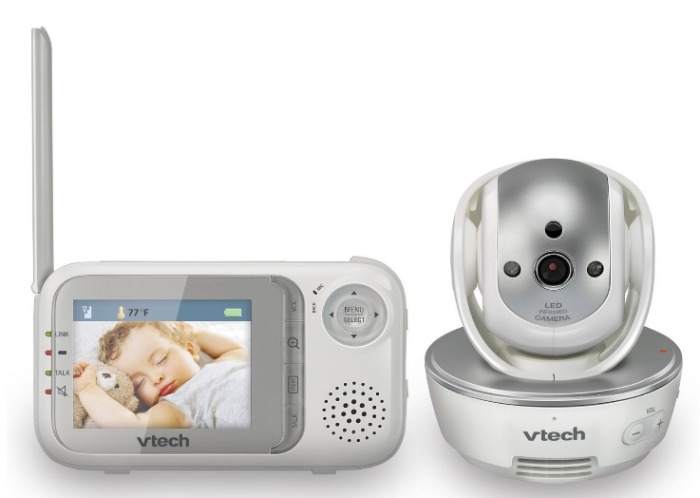 Check out all of these awesome features:
Pan, Tilt, and Zoom: Watch as your little one moves about. The camera pans up to 270 degrees side-to-side and tilts as many as 124 degrees up and down. Need more detail? The camera zooms up to 2x.
Multiple View Options: System supports viewing of up to 4 total cameras from one parent unit. Viewing modes include single view (one camera only), split view (cycles through cameras on single view before stopping on split view) and patrol mode (single view that transitions to a different camera every 7
High-resolution 2.8-inch color LCD: Never miss a smile with the high-resolution, 2.8-inch color LCD.
Full-motion video: With up to 25 frames per second, you can see your child's every move on clear, dynamic video.
Automatic night vision: Two infrared LEDs and a low-lux camera automatically detect dim light, providing clear video even in dark rooms.
Talk-back intercom: Sometimes all your baby needs is to hear the sound of your voice. Comfort your infant from any room with the built-in intercom on the portable parent unit.
Ready to try out the VTech Safe&Sound® Pan & Tilt Full Color Video Baby Monitor in your own home? Join me at the #VTechBaby Twitter Party to chat about general baby and child safety tips and for your chance to win five nursery safety baskets featuring VTech Safe&Sound® Pan & Tilt Full Color Video Baby Monitors to randomly selected participants who answer the trivia questions correctly. Prizes limited to U.S. participants only.
When: Wednesday, February 18 at 1 p.m. ET
Where: On Twitter – follow the #VTechBaby hashtag to track the conversation.
Full details and RSVP: //vite.io/themotherhood
How do you allow your children independence while ensuring they're safety?