News Coverage
It's a Phone, It's a Doorbell, It's The VTech Video Doorbell System
July 12, 2013
Disclosure: I received this product to review in exchange for sharing my honest opinion.
image: http://momandmore.com/wp-content/uploads/2012/05/Screen-Shot-2012-05-07-at-12.42.57-PM.jpg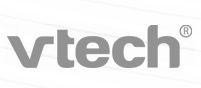 I don't know about you but when my doorbell rings I don't always want to get up and get it. It could be a package being delivered where it will just be left on the porch, someone selling something or yes someone important, but sometimes I think how nice it would be to know who is ringing my doorbell. It would be nice too to know that my doorbell is even ringing when I'm in the backyard or basement, which are two places I don't hear it. I know though I am asking for a lot. Well leave it to VTech to combine two things that I would love to have!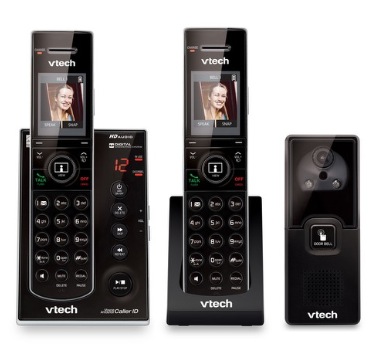 Features:
Voice Announce® Caller ID
Push-To-Talk
HD Audio
Caller ID/Call Waiting*—stores 50 calls
Handset Speakerphone
Save up to 100 Photos
Backlit keypad and display
ECO Mode power-conserving technology
Quiet Mode
Expandable up to 10 handsets and 2 cameras
DECT 6.0 Digital technology
Digital Answering System
Up to 14 minutes of digital recording time
Call screening
Call intercept
Remote access
Message retrieval from handset
Message time and date stamp
50 name and number phonebook directory
Intercom between handsets
Conference between an outside line and up to 2 cordless handsets
Voicemail Waiting Indicator
Last 10 number redial
Trilingual prompts—choose between English, Spanish or French
Volume control
Mute
Any key answer
Table and Wall Mountable
Last 10 number redial
The VTech Video Doorbell System is a doorbell and a cordless phone! Its the first of its kind to combine a cordless answering system and video doorbell with a digital camera for convenience and security. The phones work like normal cordless phones but then when someone rings the doorbell it not only pops up a picture of whose at the door but it also will ring on the phone! To me having my phone ring like a doorbell is awesome because I am in the basement or backyard a lot with my kids and I will absolutely not hear the doorbell otherwise. The picture is a bonus because yes I go to the door most of the time when the doorbell rings but there is nothing worse than having my hands full to drop everything just to see that it was the mailman or UPS leaving a package on my porch. There is also the whole security thing where I don't want to go the door if I don't know the person standing there.
Now is the picture perfect? No its not but for the price of the phone and convince of size, it works for me. The screen is 1.8 inches and while it is color its not a crystal clear picture. I can see though if the person is standing there or if they are walking away and the jist of who they are.
How is it as far as installation goes? Well there are two ways to install it. You can plug it in to an actual outlet or hardwire it to your actual doorbell if thats wired. Our doorbell is wired so all my husband had to do was take off our ugly old doorbell, twist on the two wires that were already there and close it up. It took him like no time at all and we were good to go. I honestly was amazed at the setup time but it was really easy and I was impressed.
Using the phone like I said is just like regular cordless phones but they have have a small screen on them. The picture pops up as color and it will save up to 100 photos when your doorbell is rang. This was nice when we were on vacation, since I could scroll through and see who had come over. The doorbell itself isn't completely obvious either as a video camera and it captures what we want, you can adjust it too as far as where it is pointed. Oh and did I mention you can even talk to whoever rings your doorbell? Yep, just push a button on your phone and talk – I have freaked my kids out by saying "Go away!" or you could of course say "We don't want any!"
image: http://momandmore.com/wp-content/uploads/2013/06/DSC_0939.jpg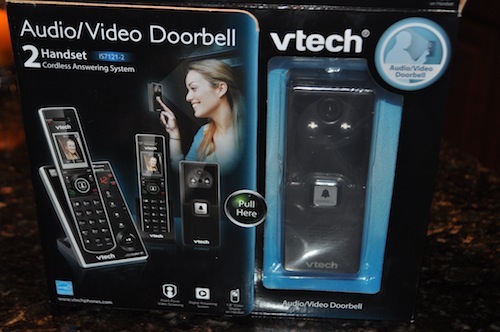 image: http://momandmore.com/wp-content/uploads/2013/06/DSC_0940.jpg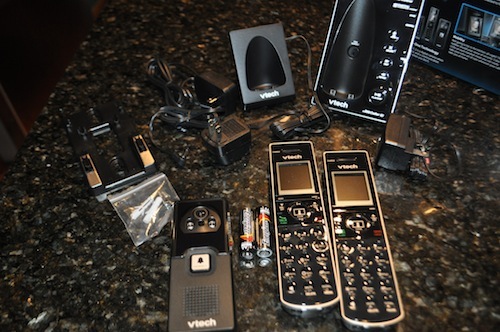 image: http://momandmore.com/wp-content/uploads/2013/06/DSC_0942.jpg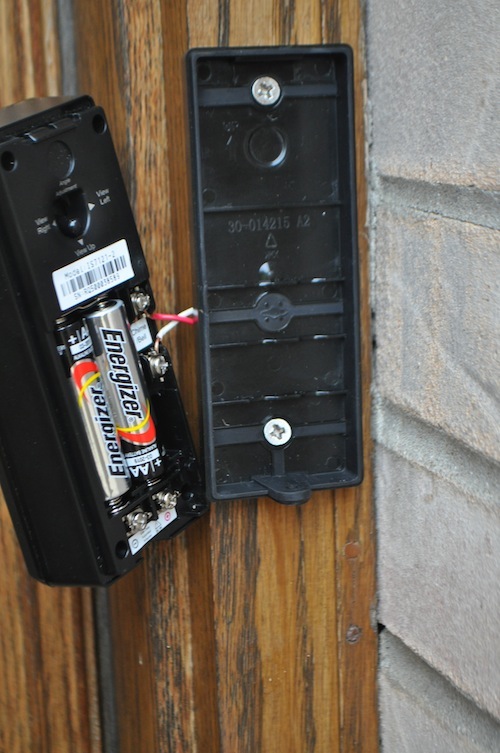 image: http://momandmore.com/wp-content/uploads/2013/06/DSC_0945.jpg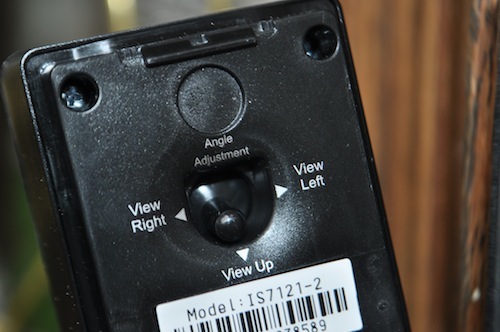 image: http://momandmore.com/wp-content/uploads/2013/06/DSC00273.jpg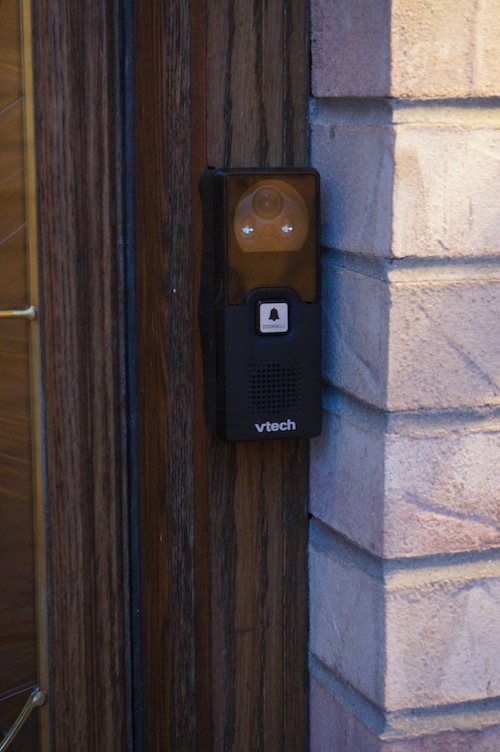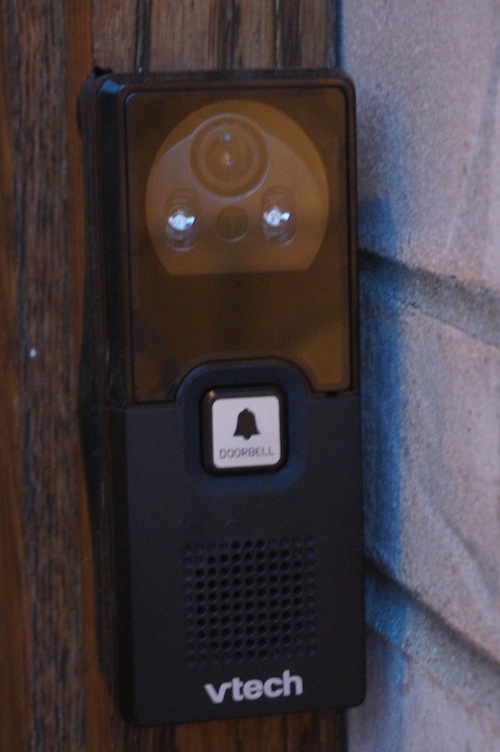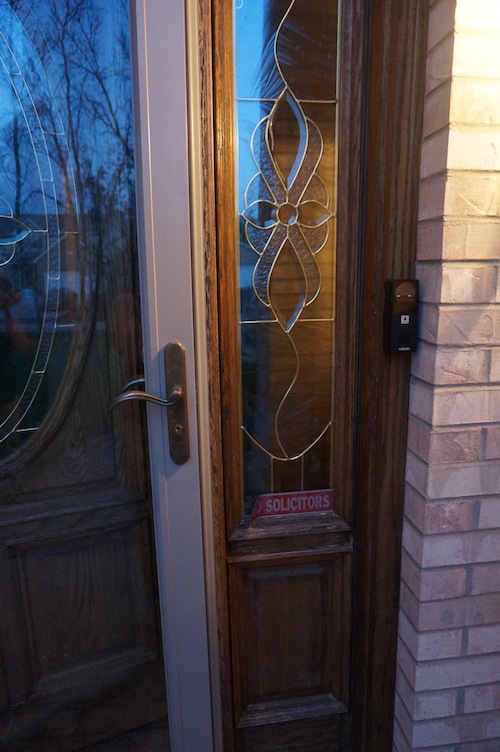 Honestly for the price of around $120 for this doorbell and two phones set, I think its worth it for peace of mind and just to have a great phone. We use this with Vonage and it works great for us. I think the only thing I would change is to add bluetooth ability to it so you can connect your cell phone like some of the other VTech phones offer. Otherwise I am really liking the whole doorbell camera, phone quality and basically extension of my doorbell! Right as I type this too I am thinking of how many handsets I want to order since it can be extended up to ten and I definitely want at least two more for other rooms.
Stay Connected with VTech:
BUY IT: The VTech Video Doorbell System can be purchased for $119.95 direct through VTech or look for it at a retailer near you.
Originally published on 2013-07-12 by Cher at
Mom and More
.