News Coverage
Make Sure Your Little Ones are Safe&Sound with VTech
February 14, 2015
I remember way back to when we were first registering for our baby shower, and the decisions we had to make about so many items… like what kind of diapers, cups, clothing, or even bedroom décor we were going to use in the new baby's room. Some were harder than others, especially with bigger items that would last longer- like breast pumps, cribs, swings, and especially a baby monitor. I wanted one that would work really well through multiple rooms and maybe even outside in the front yard, but I was pretty torn about whether I really needed that video monitor or not. We started out with audio only, and I'll just say that it didn't last very long. I really wanted that security of being able to see my baby when I wanted to, especially as we transitioned him to his own crib in his own room. I loved being able to see him as he fussed and turned in the night, and it really helped me to judge when I though he needed me or when it looked like he was self soothing and heading back to sleep.
As our family has grown, the usefulness of our video monitor has grown so much. While I love seeing the baby on the monitor, I actually think it comes in handier for my big boys. I can check on them when they're in their room playing without intruding, talk with them through the monitor, and I even get to catch a few of those very rare moments when they're being nice to each other. More often, I catch Aiden trying to superman off the top bunk of his bed, Reese climbing the cubicles on the wall, or even more scary- I caught my 18 month old scaling the bunk bed ladder to play with his brothers at the very top. While I may have a heart attack in the process of watching my kids grow while using them, video monitors rock in our home! So I was pleasantly surprised when we got to try out the new VTech Safe&Sound Pan & Tilt Full Color Video Baby Monitor!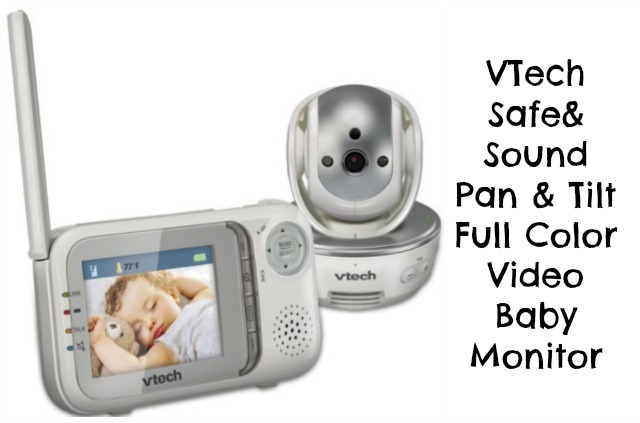 There were a few features that stood out to me right away with the Safe&Sound monitor. First, I love the screen set up. It has a great high resolution LCD screen with a very clear view of the boys, and an automatic night vision that is awesome for seeing every move they make- even in the dark. Plus, the 2x zoom makes it really helpful to see their eyes (or breaths, if you're one of those moms like me!). The toggle buttons on the side make it super easy to navigate through the screens and menus too, and the transmission is digitally encrypted- so I can be sure that I'm the ONLY one seeing my kiddos on the monitor.

While all of these are important in choosing a good video monitor, one of my favorite things about the VTech Safe&Sound is that it's sturdy. While I won't really being trying to test this feature out, the whole parent unit really felt like it could take some rough handling from some little boys that seem to think it's a toy (I mean, VTech does make some fun toys!). While I don't need the antenna in the house (it has up to a 1,000 foot range!), when I pop the antenna up from it's secure spot, it's thick and sturdy. The same goes for the kickstand- which also has a big range of recline options.
For tons of more info on the VTech Safe&Sound Pan & Tilt Full Color Video Monitor, check out the VTech website. There's so much more to discover- like the temperature monitor, vibrating sound-alert, and 5-level sound indicator. Also, be sure to join me for a Twitter party to learn more about this amazing product and to chat about general baby and child safety tips.
When: Wednesday, February 18 at 1 p.m. ET
Where: We'll be on Twitter- follow the #VTechBaby hashtag to track conversation.
You can see the details and RSVP via this Vite: http://vite.io/themotherhood
Hashtag: #VTechBaby
Prizes: (5) nursery safety baskets featuring VTech Safe&Sound Pan & Tilt Full Color Video Baby Monitors to randomly selected participants who answer the trivia questions correctly.
Prizes limited to U.S participants only.
Hosts: @TheMotherhood, @TMChatHost, @CooperMunroe, @EmilyMcKhann