News Coverage
Mom Must-Have: VTech Safe and Sound® Pan & Tilt Full Color Video Baby Monitor Review #VTechBaby
February 18, 2015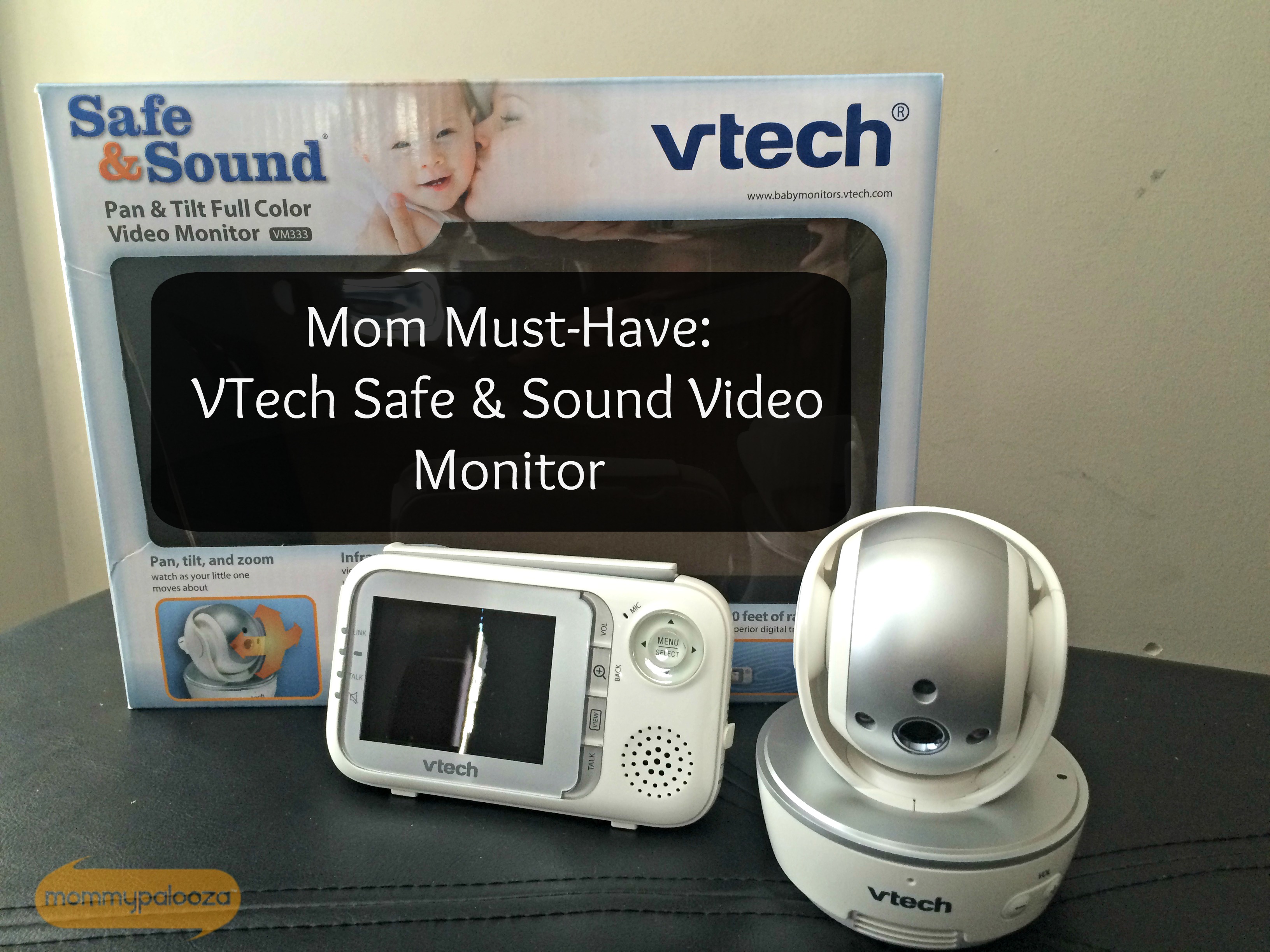 Disclosure: This post is brought to you by VTech and The Motherhood. All opinions expressed about the VTech Safe & Sound Monitor are my own.
With baby #5 on the way, it's fair to say there's going to be A LOT going on in our house very soon! One of the things I've thought about is finally getting a video monitor what will serve as my eyes and ears (of sorts!) so that I can multi-task throughout the house.
I recently was given the opportunity to try out the amazing VTech Safe & Sound® Pan & Tilt Full Color Video Baby Monitor and I am SO excited to share some of the wonderful features that every mom will appreciate.
First off, whether you plan on using this for your baby, toddler, or even preschool or school aged kids, you will reap all of the benefits of this video monitoring system. I love the Pan, Tilt, and Zoom features. You can watch your little one(s) as they move about. The camera pans up to 270 degrees side-to-side and tilts as many as 124 degrees up and down. And if that's not enough details, the camera zooms up to 2x!
The high-resolution 2.8-inch color LCD screen will also capture every detail for you so you can have peace of mind! But my most favorite feature is probably that it has a talk-back intercom system. I know this will come in very useful once baby comes this April. We all know that sometimes all your baby needs is to hear the sound of your voice. With the built-in intercom on the portable parent unit, you can comfort your infant from any room in the house!
Most recently, though, I've been using VTech Safe & Sound® Pan & Tilt Full Color Video Baby Monitor System to keep an eye on my preschooler and toddler in the other rooms while I'm upstairs in my office or cleaning out the baby nursery and getting things ready for our sweet arrival.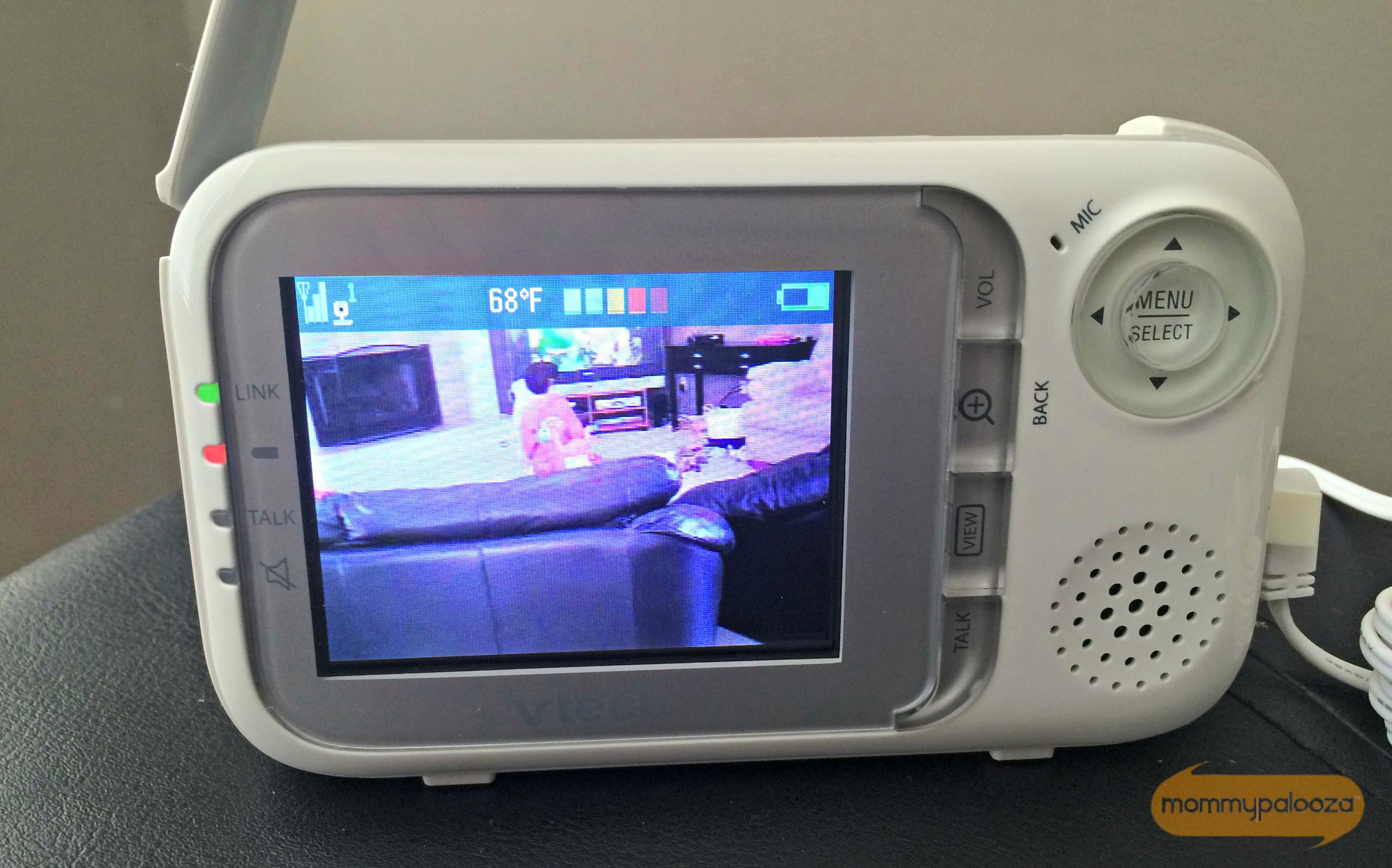 As you can see, it provides a great view of my kiddos in the living room watching one of their favorite shows. I can also hear them singing along with the show and even check the temperature in the room with the temperature sensor feature that comes with this amazing system! Some of the other great features include:
1,000 feet of range
Digital transmission
Expandable system
System supports viewing of up to 4 total cameras from one parent unit
Wall-mount bracket
Vibrating sound-alert on the parent unit
Rechargeable battery with low-battery alert on the parent unit
Zoom the camera from the parent unit
5-level sound indicator
Volume control
Whew! The folks at VTech have truly thought of everything a parent would want in a video monitoring system and they've packed it all into the VTech Safe & Sound® Pan & Tilt Full Color Video Baby Monitor!
Join Me for a Twitter Party!
I'm so excited and hope you'll be my special guest on Wednesday, February 18 at 1 p.m. ET for theVTech Safe & Sound Twitter Party. I'd love to have you RSVP at the Vite: //vite.io/themotherhoodand be sure to also follow the hosts @TheMotherhood, @TMChatHost, @CooperMunroe, @EmilyMcKhann as well as the Hashtag #VTechBaby. You will LOVE the prizes at this party too! They include five nursery safety baskets featuring VTech Safe&Sound® Pan & Tilt Full Color Video Baby Monitors. Prizes limited to U.S. participants only via randomly selected participants who answer the trivia questions correctly.
I can't wait to see you there!