News Coverage
Product Review: VTech 2 Handset Connect to Cell™ Cordless Handset
January 29, 2014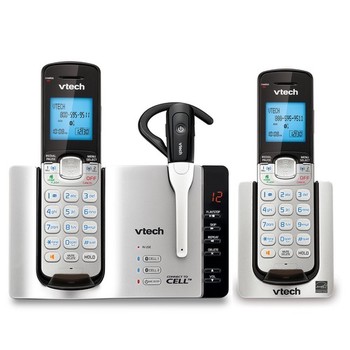 2 Handset Connect to Cell™ Answering System with Cordless Handset by VTech DS6671-3
Cell phones are taking over how people communicate with each other and raely are handset phones used. Surely, if people had the option of a well designed and convenient handset phone, more would use them. The 2 Handset Connect to Cell™ Answering System with Cordless Handset by VTech DS6671-3 is an innovative phone. The communications company VTech manufactures a range of leading cord and cordless phones, but this phone is more advanced and improved to provide consumers with reliability.
The convenience that this handset offers goes without saying. A big issue that most report with cell phones is that they have it on vibrate and never hear it ring. I am guilty of not knowing where I placed mine. Also, it isn't healthy to hold cell phones to the ear. According to the National Cancer Institute, cell phones emit radio frequency energy and tissues that come in contact can absorb the energy. With the VTech handset you can connect your cell phone to it using a Bluetooth enabled cell phone. Using the 1 cell or 2 cell options, you can also make cell phone calls thorough the handset device. Furthermore, the VTech device allows you to connect two different cell phones and up to 12 handsets using one phone jack (sold separately).
The handset device is easy to setup. There's easy to follow instructions. The base unit can be placed in your home or office where there's a phone jack to get the best reception. The reception is clear, and the device includes two phones.
The phonebook from a cell phone can be synced to the handset. The handset stores 2000 records from up to two different cell phones. The names display on the Caller ID when the phone rings, so no need to input the names or numbers separately.
Product highlights
Make and Receive Landline and Cellular Calls

Connect to BLUETOOTH® wirelesstechnology-enabled cellular phones to make and receive cellular calls with the ease and comfort of a home phone system. Avoid the mad dash to catch a cellular call before it goes to voicemail.

Includes a DECT 6.0 Cordless Headset.
Enjoy the freedom of private, hands-free conversations anywhere in your home or office. This convenient headset gives you the same interference-free, superior-quality voice, sound and range you expect from a traditional DECT 6.0 cordless handset with added mobility.

Experience more efficient conversations with this versatile cordless system.
See full product details
The 2 Handset Connect to Cell™ Answering System with Cordless Handset by VTech DS6671-3 is Energy Star qualified. The product is available online and in store. List price is $99.95.
VTech Communications was founded in 1976 and it has grown to become the world's largest manufacturer of cordless telephones. The VTech phones include various styles and designs for consumers who like corded and cordless telephones.
FTC Disclosure: The author received a product in exchange for review; however, the opinions expressed represent that of the author. No payment or other compensation was received.