News Coverage
The Case Of The Wireless Doorbell
July 09, 2013
The VTech® Video Doorbell Two Handset Answering System with Audio/Video Doorbell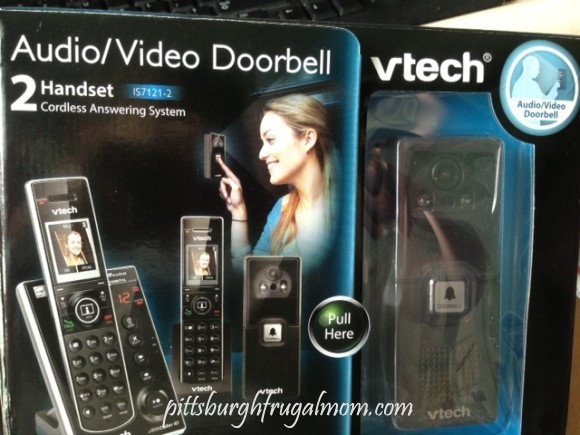 Have you ever wondered what is going on outside of your home or who rings the doorbell? Would you love to be able to decide which doorbell ring you are going to answer or which you are going to ignore? It seems that every time I am about to slip into the shower, or into my workout the doorbell rings and the kids know they are not allowed to open the door, so I have to stop what I am doing and run for it. I hate to say it but I bet at least 5 of the 6 times I should have just gone on with what I am doing because it is someone soliciting junk that I don't need, would never buy and really don't care about, but instead: I stop what I am doing, listen politely and then walk and away and realize that I have just lost 5 minutes of my day that I am NEVER getting back! This new piece of technology lets me easily determine who is ringing the bell without stopping what I am in the middle of, just by viewing through the screen on my phone handset.

The VTech Video Doorbell Two Handset Answering System with Audio/Video Doorbell is the Platinum form of Caller ID which have you spending less time answering unwanted doorbell solicitors and it see what is going on while you are gone! Being frugal means getting the most out of every purchase you make and the VTech® Audio/Video Doorbell is a super frugal purchase because it is a doorbell with live video/imaging and it is also a phone, which means it is 2 pieces of technology wrapped into one. Consider this Caller ID for your front porch because you can see everyone that comes to your door through the camera and you never have to be seen, screen those doorbell ringers! Every time the doorbell rings, a photo is captured and you can take live video. The photos an videos are in full color on an LCD Screen that is 1.8″ large. When you are not using the handset to screen callers at your front stoop, the handset actually is a feature-rich cordless phone.

Call me jaded, but the other day, as my kids were out playing, a little neighborhood girl, kept beckoning them to join her in her little ding dong ditching episode. My kids told her to stop doing it, and her brother actually went along, and apparently, per the neighbors' recanting, she kept on ding dong ditching them. While I gather that one time might have been funny, several times becomes a nuisance. Since my kids were present when it happened, the lovely neighbor who got ding dong ditched approached us and of course mentioned that our kids might somehow be involved because he saw them around when it all happened. How perfect would this tool have been on his house so he could actually have seen that the little girl and her brother were the ones knocking on his door, ringing his bell and causing his wife to stop what she was doing several times in a row. The neighbor was super mad, and I can't say I blame him. The little girl is notorious in the neighborhood as the self-proclaimed 'dare-devil' and she has defaced our front door with tape, notes and hand prints. Her parents are no where to be found, they are inside when she is out, and she does as she pleases. I think our neighbor(who got ding dong ditched) could find a great use of this product because instead of just approaching the mom and dad and telling them he believes this is what happened he could show a Snapshot in real time on a photo that the wireless doorbell captures. As soon as she rings the doorbell her picture gets snapped! Pictures are worth 1000 words, right? There would be no saying, "it was not my kid" because the Snapshot shows the whole thing happening. Maybe one image of what the child really does would help illustrate to the parents all the other things their child does that endangers her daily like climbing out the neighbors bedroom window and standing on top of their porch top roof unsupervised, putting rocks in mailboxes and standing in the middle of the road and stopping cars too? The 'devil' might have met her match? Just a thought.

How Does The Wireless Doorbell Work?

Once the doorbell rings, press VIEW. You can chose to either speak to the visitor via the Speak key or you can press SNAPSHOT and take a photo shot of the visitor.(remember, as soon as the doorbell is pressed an image is taken, but you can take more if you like) You can view the photos that you take by using the MENU key and going into the Photo Log. It will not matter if it is day or night because the images are clear day and night thanks to automatic Night Vision. Does it rain a lot where you live? No worries as this video camera is waterproof . As soon as the person/visitor rings the bell, an automatic image is taken and your handset will store up to 100 images, so if the same person rings, rings, rings, they get a photo, photo, photo!

Why I love the Wireless Doorbell.

Being frugal means getting the most out of every purchase and this doorbell is also a phone so when I am not answering the door and taking photos of those at my door, I am using the phone to make calls! The appliance has a double-duty sense to it and it makes it perfectly functional in my home! The phone has mute, flash(for call waiting) a paging system, a redial function and a handset speaker phone. The unit offers a 50 number directory for storage, speed dial and of course if you have Caller ID a log. The answering system is digital and does not sound warbly. The image that you see is a wide angled image and it is clear even when it is dark outside because there is automatic night vision. The screen is 1.8″ large and it is full color LCD. The set comes with 2 handsets, a wireless doorbell and HD Audio. I love that the when the phone rings it tells you who is calling, without even having to look, it is verbal Caller ID! This is cutting edge technology and it is the first system that actually offers a phone and a digital camera. A little bonus feature that I am anticipate benefiting from is the fact that while we are gone, we can still see who stopped by through a simple review of stored photos, up to 100. I bet we get to see the little vixen pasting stuff to our front door, taping the glass with cellophane tape that does not come off of glass easily, or marking the glass up with hand prints just because she feels like it. The fact that I can now take photos of each person on the front patio is priceless and I am able to screen visitors through an intercom system rather than actually answering the door is an added perk. Installation was a breeze, and we performed the install for the unit based on an existing doorbell. One appliance to do multiple tasks eliminates the build up of junk on our counters. Less is better!

As a consumer, great new products are nice, but those that actually can help solve problems, add to your current needs, and provide you some feedback(the photos) are priceless. This new addition to our home makes it possible to screen the front door bell ringers or those who are potentially on our front stoop while we are not there! I have actually now see know who is ringing the doorbell, when, and who was at my door. The imaging is great as is the streaming. The power of technology is an awesome thing and this is great for the 'proof is in the pudding'!
Originally published on 2013-07-09 by Dana Vento at
Dana Vento
.