News Coverage
VTech-A Phone for Multi-Tasking Moms
November 11, 2013
This is a Sponsored post written by me on behalf of VTech Communications for SocialSpark. All opinions are 100% mine.
I am really excited to tell you about VTech's newest phone. The DS6670-6C is the perfect phone for busy moms who always have so much going on. It has so many features that you'll be blown away! We had an older VTech phone prior to getting this one. We've had it for YEARS. I mean, a very long time. Although it was not as advanced as this newer one, one thing I can say about VTech phones for sure, is that they last. They are quality phones that last a long time. SO when I got this phone in the mail, I was super excited to try it out. It has 5 handsets. FIVE, I tell you! Black and white ones, which I think is perfect, to match ANY room decor, right?
One of the great features of this phone is that it comes with a cordless headset. Perfect! I don't have to hold a phone to my ear while I am busy around the house dealing with supper or kids or whatever else that keeps me busy. This is a great bonus! I can talk hands-free with no problem, anywhere in my house!
I think that one of the most innovative and cool features on this phone is the ability to merge your cell phone calls with your home phone. You can make a cell phone call using your DS6670-6C, or answer your cell with it. Is that genius or what? You can also make your home phone's ring tone, the same as your cell's ring tone. Additionally, you can store up to 2,000 phone contacts (from 2 different cell phones) into your phone system without having to manually input names & numbers.
So far, we are really enjoying our VTech phone system in our home. It is absolutely great. Very high tech without being so overwhelming or hard to set up. It's so advanced, yet so simple! I can get so much done. I really love not having to move my cell phone from room to room as I go about my day. I won't miss any calls, whether it's from my home or cell phone with this phone system.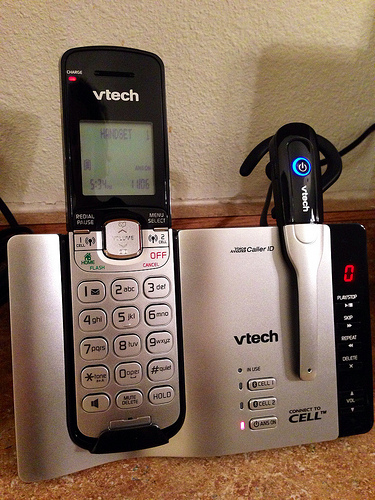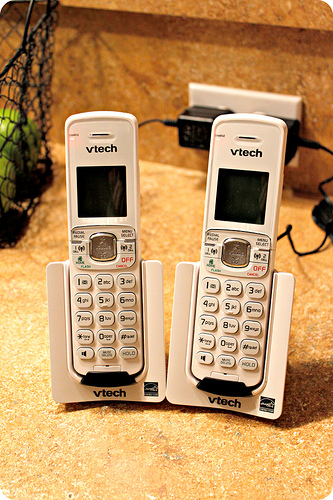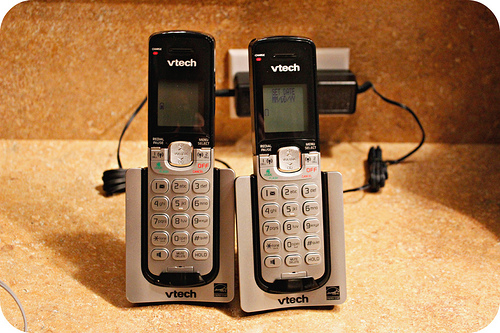 VTech made it's debut in 1976, and quickly has become one of the top 3 competitors for cordless communications in the United States. If you are interested in learning more about this awesome phone system ( the DS6670-6C), or any other VTech phone systems, you can visit www.vtechphones.com. You can also Follow VTech on Twitter and Like VTech on Facebook