News Coverage
VTech Baby Monitor Review
January 22, 2015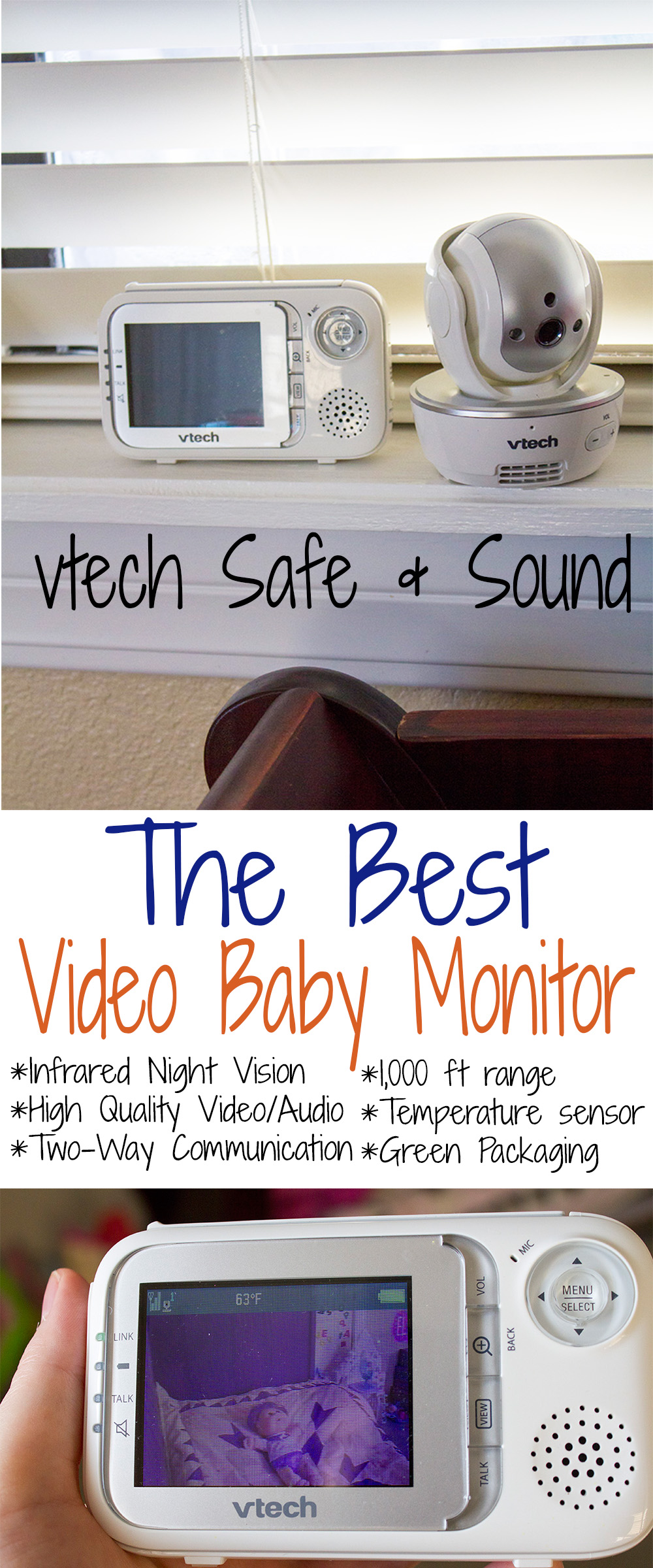 I am anxiously counting down the days until little Baby E arrives, and am making all the preparations for his nursery. When I was pregnant with my daughter, Elle, I was a bit lazy about the baby preparations. I had a tendency to register for whatever was the top 3 populated brands in my searches for any particular item, but I did very little research trying to find the best products available for my money.
This time, I am making much more informed decisions. I am doing extensive research to make sure I get the best product, for the best price. Especially since we are footing the bill for all the expenses this time around (no baby showers for second babies), I want to make sure we spend our money wisely on products that work well, and that will last.
One of the products I was most anxious to research was baby monitors. The last time around, I ended up getting a cheapy model from walmart, that relayed only audio. It worked, mostly, fine, but I had some hiccups with it. Sometimes, in the middle of the night, it would run out of batteries, even though I JUST replaced them. And I can tell you, needlessly waking up a new mom, who is trying to survive on very little sleep, is a cruel joke indeed.
This time around, there were 4 criteria that I focused on while deciding which baby monitor to go with:
Needed to include video and audio feed, both high quality
Preferably needed to include infrared night vision
Needs to have a decent range, of more than 800 ft.
Preferably needed to have two-way communication (so I can talk to baby)
I ultimately decided that the VTech Safe & Sound Pan & Tilt Full Color Video Monitor was the monitor that exceeded all of my criteria points, and was within my price range.
Criteria 1: High Quality Video and Audio Feed
The VTech Safe & Sound baby monitor offers a full motion video, feeding up to 25 frames per second. I love that I can control the pan, tilt and zoom from the "parent unit", which will come in handy if my little boy likes to move around the crib while he's sleeping. It offers 270 degrees side-to-side and moves 124 degrees up and down. The zoom goes in 2x. The movement on the camera is so quiet, it can't imagine it will disturb a sleeping baby. The parent unit offers a 320 x 240 color pixel display, which is clear enough to see facial expressions.
I should mention that one of my favorite features is that the parent unit controls the pan of the camera, and that 270 degrees side-to-side and 124 degrees up and down gives you A LOT of range. I can pan the camera half way across the nursery, so while it's highly convenient while my baby is in his crib, if he decides to play in his room as he is older, I will likely be able to move the camera from the parent unit, and still see what he's doing. Very, very cool.
The audio quality is great, and doesn't remit any white noise (another wonderful bonus while this new mom is trying to get some much needed rest!).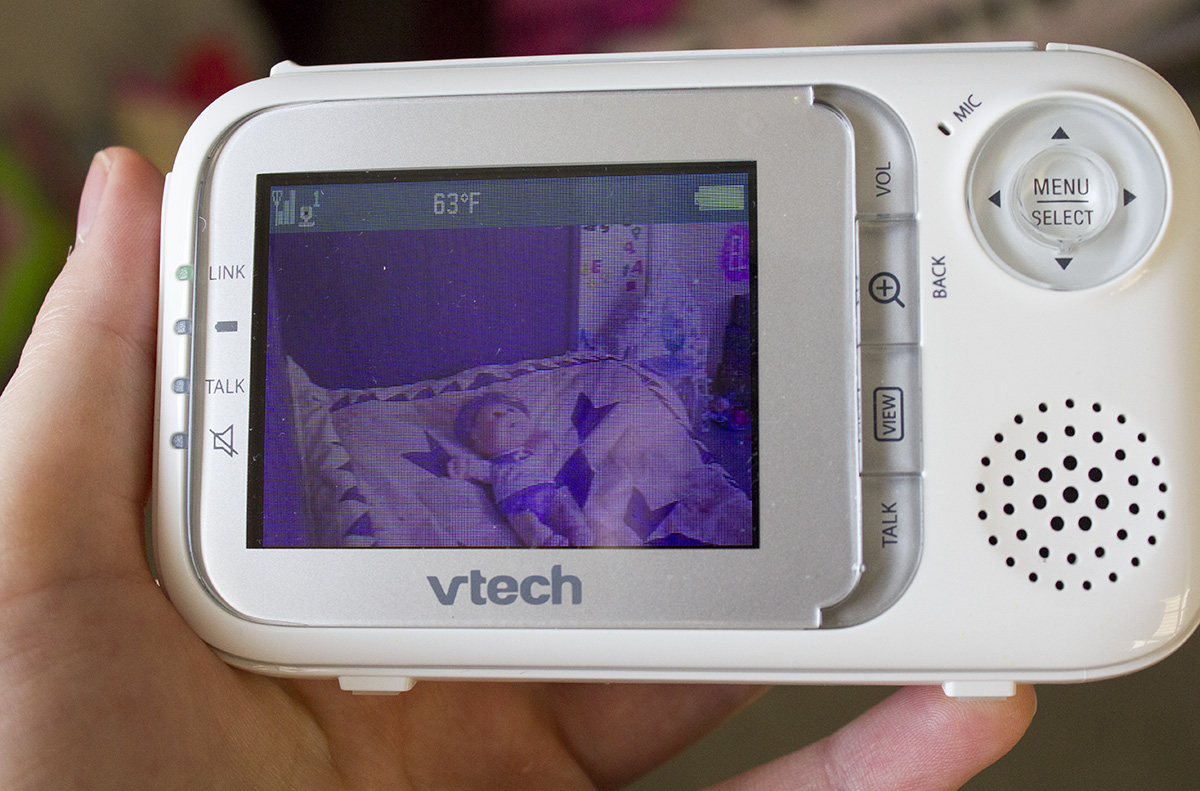 Criteria 2: Infrared Night Vision
This unit automatically comes with infrared night vision, which allows parents to view their children at night, without having to have a nightlight on, or have a light shining in their face (because I am sure that is not conducive to a sleeping child). This is an awesome feature, and I tried it out with my 4-year-old. In a dark room, I am able to see a video feed of her, so I know this is going to work out perfectly for when the baby comes.
Criteria 3: Range of More than 800 Feet
I have a modest-sized house, but I have quite a substantial back yard. In the summer, I love spending time outside gardening, and nap times are prime time for such tasks. I need a video monitor that will allow me to see my little man while he naps, that will also allow me to step in my backyard. The VTech Safe & Sound monitor has a digital transmission range of 1000 feet, which exceeds my needs!
Criteria 4: Have Two-Way Communication
Let's say, in my last scenario (me: outside gardening, baby: inside napping), my little bambino decides to wake up while I am gardening. I want to be able to speak to him while I make my way inside, so he doesn't panic because he is alone. The VTech Safe & Sound monitor allows the parent unit to talk-back to the baby unit, which will allow me to soothe Baby E, when necessary.
And maybe, when I am having really lucky days, I could even sing him a song remotely, and see if a few tunes is all it takes to lure him back to sleep.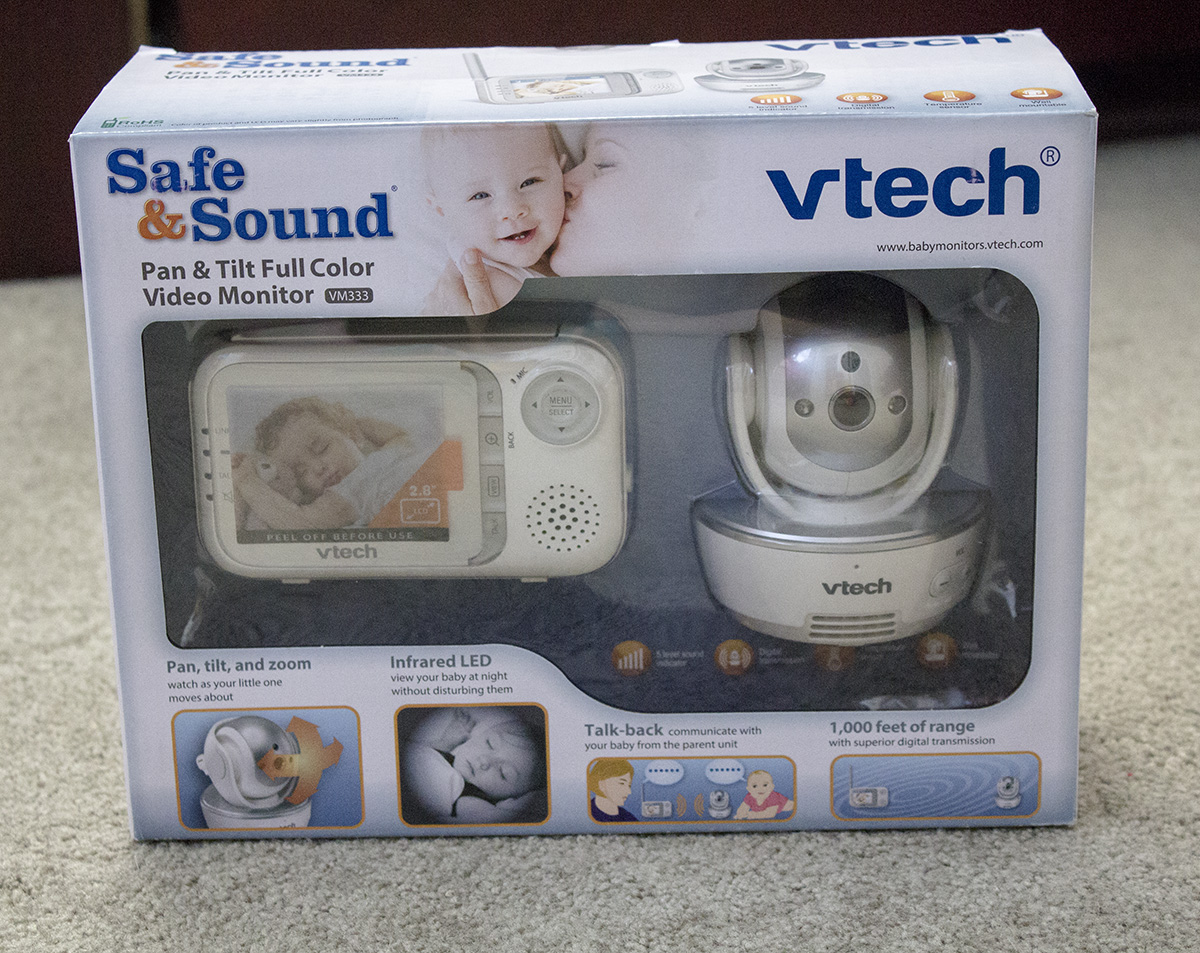 A Few Bonus Features:
There is a temperature sensor on the baby unit that will alert the parent unit if the temperature range goes out of comfortable range. Since SIDS is more likely to occur in babies that get over heated, that is a wonderful safety feature!
No Peeping Toms! When I told my husband I wanted to get a video baby monitor, he expressed concerns about another person being able to pick up the monitor frequency and hearing/seeing our baby. The VTech Safe & Sound transmits digitally, and is encrypted for privacy and security.
Green packaging. The package that the vtech baby monitor came in is 100% recyclable and uses a non-toxic aqueous ink coating. As an environmentally conscious consumer, I really appreciate when companies take the little extra step to package their products in