News Coverage
VTech Colored Phones Keep Things Festive
December 31, 2013

The holidays may be over, but holiday buying isn't necessarily over. Although you might not be shopping till you drop finding gifts for family and friends, but after the holidays is actually an excellent time to get some gifts for yourself, especially if you have money, gift cards, or store credit to use.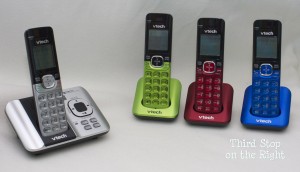 One of the things you could buy would be some new phones. Since we get our phone service through our internet we don't plug the phones into the wall jacks. Instead, we have one base unit and several handsets. Anyway, our phones have been on their last legs. One of the handsets barely held a charge, and another one would just cut out for no reason. Then, I found the VTech CS6529-4B (RV $69.95).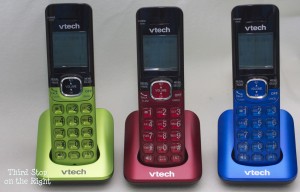 Even better than the fact that this phone has one base, three handsets, and a built in answering machine on the main base, is the fact that each handset is a different color. In this set you will receive a silver, blue, red, and green handset. The handsets have bold colors and even the keys are the same color as the handset. My sister (who LOVES Christmas has already said that she would love to have handsets in red and green!)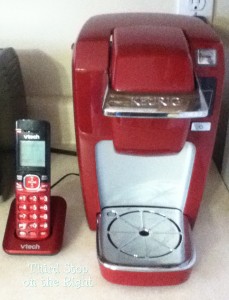 I am such a sucker for red small appliances. I already have a red Keurig and stand mixer so why not add a red cordless phone too? Even better, the red and green handsets make awesome stocking stuffers come Christmas.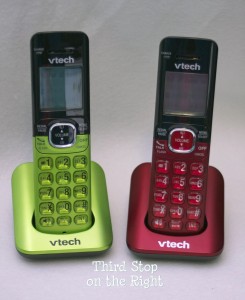 Some additional features of this phone are:
Caller ID on incoming calls and also on Call Waiting calls

Built-in answering machine on base unit/message retrieval on handsets

Speakerphone capabilities on the handset

Backlit keypad/display

ECO mode power-conserving technology

Hearing aid compatible
If you love the colored phones but don't need as many handsets, there is also the option of purchasing the CS6529-16 (RV $29.95). These phones come with just the base and handset, but also includes a built-in answering machine. These phones would be fabulous in a small apartment or even a college dorm room. They are available in silver, pink, green red, and blue. These are all available at Target.
WIN IT: So do you love this phone as much as I do? If so, you can enter to win the VTech CS6529-4B. The giveaway will run from now through 11:59 p.m. EST on January 14, 2014. Just enter through the form below! Good luck!