News Coverage
VTech Cordless Answering System with Caller ID/Call Waiting
December 30, 2013

I received a sample of this product to provide my honest opinions. Regardless, I only recommend products that I feel may be a good fit with my readers.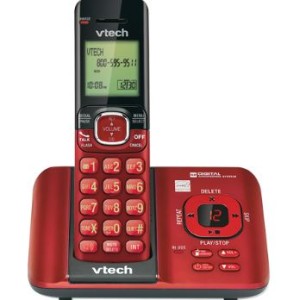 No matter what the new technology out on the market, there is one thing I cannot live without, and that is my land-line and house phone. I know many people who have tossed their house phone in the trash and use a cell phone all day long when at home. Many are frugal and looking to save money, others just don't feel the need for the use of a land-line and a cell phone. Call me old-fashioned, but I find myself to be practical and have my reasons for keeping my house phone. One very important reason is my land-line never needs charging, which can be a disaster if my cell phone battery is dead and we should have an emergency at home. Another very important one is in the case of a natural disaster when cell phone towers crash, which just happened this past year when Hurricane Sandy hit the East Coast.
Whatever the reason, I am not giving up my land-line and VTech has a great phone to sweeten the deal. The VTech model CS6529-16 Cordless Answering System with Caller ID/Call Waiting in a cherry red is cheerful, bright and goes well with any decor. What I like about this VTech is its long battery life and how even with its low battery indicator lite, it won't leave me hanging and still gives me at least 30 minutes of talk time. This cordless phone system has everything you need in a home phone. It has many features besides the Caller ID/Call Waiting options.
Some of my Favorite Features:
Caller ID/Call Waiting -Stores 50 calls. Know who's calling with Caller ID/Call Waiting. Handset displays the name, number, time and date of incoming calls.

Handset speakerphone -With the touch of a button, the handset speakerphones makes hands-free conversations easy.

Backlit keypad and display -The entire keypad illuminates along with the LCD screen, allowing for easier viewing in dim light.

Expandable up to 5 handsets with only one phone jack -Expandable up to 5 handsets with only one phone jack–accessory handsets (sold separately). Additional handsets can be placed anywhere in your home or office near an outlet, no phone jack necessary. Convenient, flexible and easy to use.

Quiet Mode -Silence the ringer on the handset and base unit immediately, or for an extended period of time.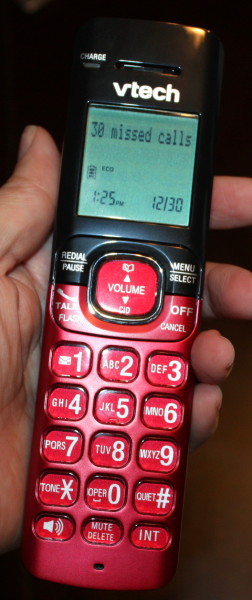 I found the handset on this VTech Cordless phonemodel CS6529-16 to be an improvement from the older VTech similar phone models. We have an older VTech model which is very difficult to read due to glare and the electronic digits being very light. When in a hurry to answer a call if I don't have my glasses on I can't see who's calling. As you can see from this photo the electronic numbers are easy to read and you can clearly see the date, time and missed calls that went to voice mail. Another great feature I like is how I can decrease the listening volume while on a call, which is a must when you have someone on the phone who is a loud talker.
Where to purchase: You can find the New VTech Cordless Answering System with Caller ID/Call Waiting online at Target.com or at other find retailers near you.
Win one:
VTech is generously allowing me the opportunity to giveaway one VTech Cordless Answering System with Caller ID/Call Waiting to one lucky reader of this blog. Enter below via Rafflecopter.
Giveaway Ends Tuesday January 21 at 12:01 am EST. Giveaway is open to U.S residents 18 years of age and older. No PO boxes please. Winner will be chosen via Rafflecopter and have 48 hours to get back to me before another winner is chosen. Be sure to add autumnblues@live.com to your inbox. As this is the only way you will be contacted should you win.
a Rafflecopter giveaway
A thank you goes out to VTech for sharing this opportunity.