News Coverage
VTech Phone Review
September 16, 2013
We aren't what you would consider "phone people." Wait, let me correct that. We are not really "house phone people." In this day and age, we all have our cell phones more or less glued to our hands. In most cases, having a barely used house phone just adds to one's pile of bills. However, since recently purchasing a home of our own, the to-do-or-not-to-do choice of getting a land line was thrown our way. With the little ones in the house, I think that it may be a good choice to keep a "family phone" set up. However, after not having a land line or a regular phone since the good ol' clear phone days of the nineties, I had no idea where to begin. Sure, I know what to look for when it comes to these nifty new cell phones but I had imagined shopping for a house phone would be more of a blast from the past. Thankfully, Walmart was there to help.

Now, we all know that Walmart has just about everything and their telephone selection is no different. With shelves full of countless options, choosing the perfect one could've, very well, taken days. Luckily, Walmart also has a good stock of VTech items. I've been a fan of VTechfor quite some time now in regard to numerous product lines. Their phones, of course, play a big part in the company's popularity. Recently, Walmart offered me the opportunity to try out a snazzy, new VTech phone. I jumped at the chance to get our new home all set up with phone service.

The VTech CS6829 Cordless Answering System with Caller ID & Call Waiting is your pretty basic home phone setup but this specific one is all of that and more.
After receiving our own model, I learned that in addition to the simple caller ID, call waiting, and answering machine functions this particular VTech phone has much more to offer than meets the eye.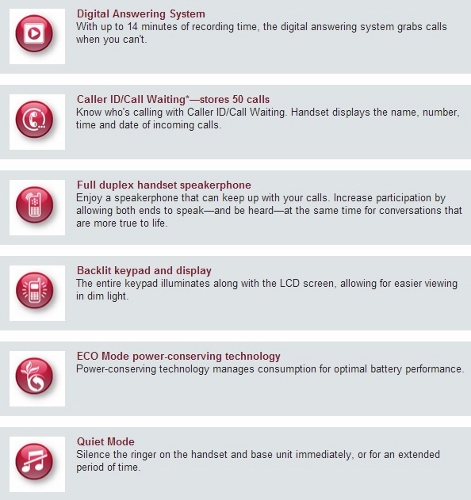 With so much more than just the basics, the VTech Cordless Answering System with Caller ID & Call Waiting will surely fit nicely in anyone's home. Its sleek design is certainly an eye-catcher for everyone and its ability to conserve power and, therefore, cut back on energy costs is a huge bonus. Having just bought our new home and being on the fence with the to-get or not-to-get a home phone, the energy efficiency feature was definitely a big selling point for us with this particular phone.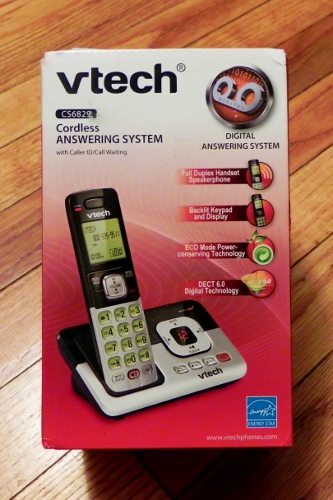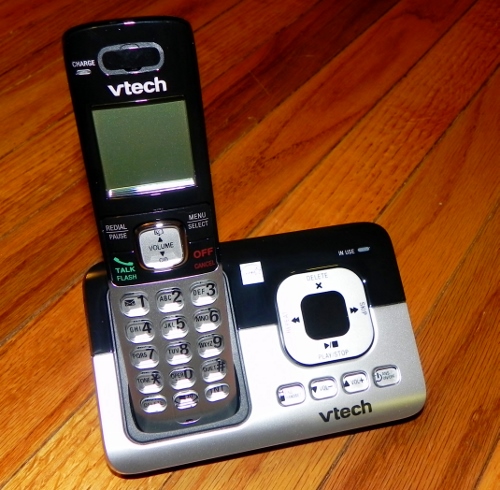 Of course, there's also the aforementioned caller ID and call waiting. For us, caller ID is a huge bonus. Ever since getting my cell phone, I've always been the girl that (and I know I'm not along here) ignores just about any number that I do not know. Normally, I do this under the assumption that "if it's important, they'll leave a message." Now, with the VTech Cordless Answering System with Caller ID & Call Waiting, not only can I screen our calls and ignore those that I do not want to take, but I can also rest assured that if a call is, in fact, an important one, the phone's digital answering system will get it for me. With up to fourteen minutes of answering machine recording time, no important calls will ever, truly, be missed.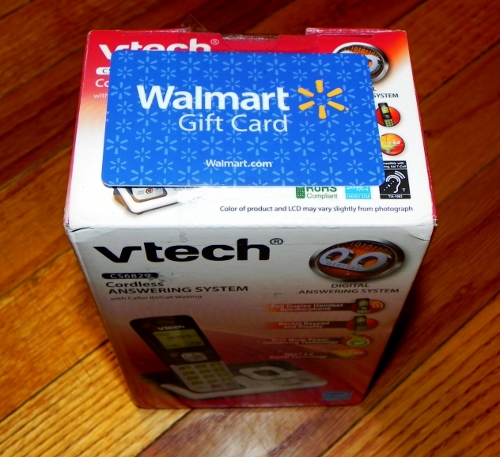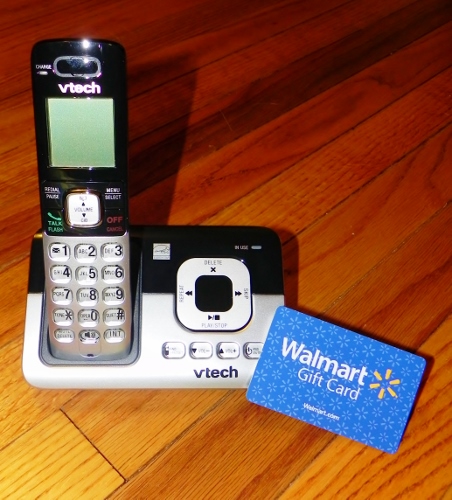 Whether you're looking to replace an older telephone, get back into the swing of things and invest in a landline, or are simply looking for a new phone with all of the bells and whistles, theVTech Cordless Answering System with Caller ID & Call Waiting is surely one that you should check out. Available exclusively at Walmart stores nationwide, you can check it out during your next shopping trip. Speaking of shopping…
Walmart wants to send one of YOU on your very own shopping trip! And, courtesy of VTech, you can now call your friends to share the good news! What good news you may ask? Well, let me explain: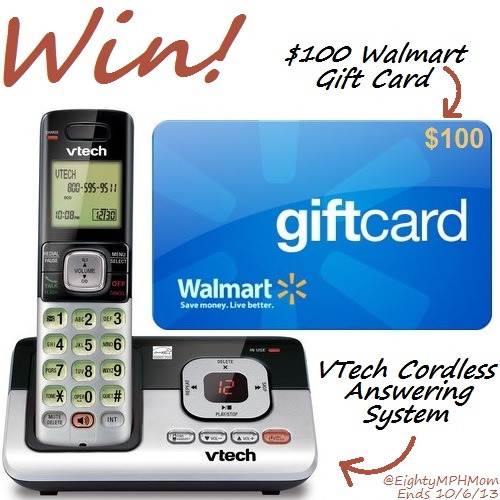 THE GIVEAWAY:
One (1) winner will receive a VTech Cordless Answering System with Caller ID & Call Waiting AND a $100 Walmart gift card!
Giveaway open to US residents only. Ends 10/6/13. ARV of $125.