News Coverage
VTech Safe&Sound Pan & Tilt Full Color Video Baby Monitor Review #VTechBaby
February 16, 2015
My babies were born in the midst of a huge change in the baby-product world. Andrew was born in 2008 – and while much of the technology in baby gear was available, it was also very new, somewhat clunky, and seemingly unnecessary. We lived in a tiny 2-bedroom condo so a baby monitor was the lowest priority on my list. With the tiny space we had, I couldn't see how often I would use it. With baby #2 and our move to a house, the baby monitor shot way up on my list of priorities. Since then, I've received several video monitors to review: and even as my children are growing like weeds, I find them more and more useful! Most recently I received the VTech Safe&Sound® Pan & Tilt Full Color Video Baby Monitor.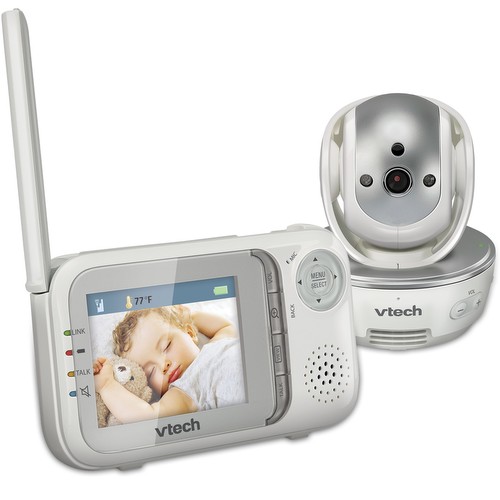 Most people assume that you need the video monitor only for the infant/baby stage: but that's so not true! When we received the VTech Safe&Sound® Pan & Tilt Full Color Video Baby Monitor, we instantly hung it up in our 4-year-old's bedroom, in a place where we could see all around: Right between the double window. It was so easy to set up: having a wall-mount bracket makes it super simple to hang on any wall.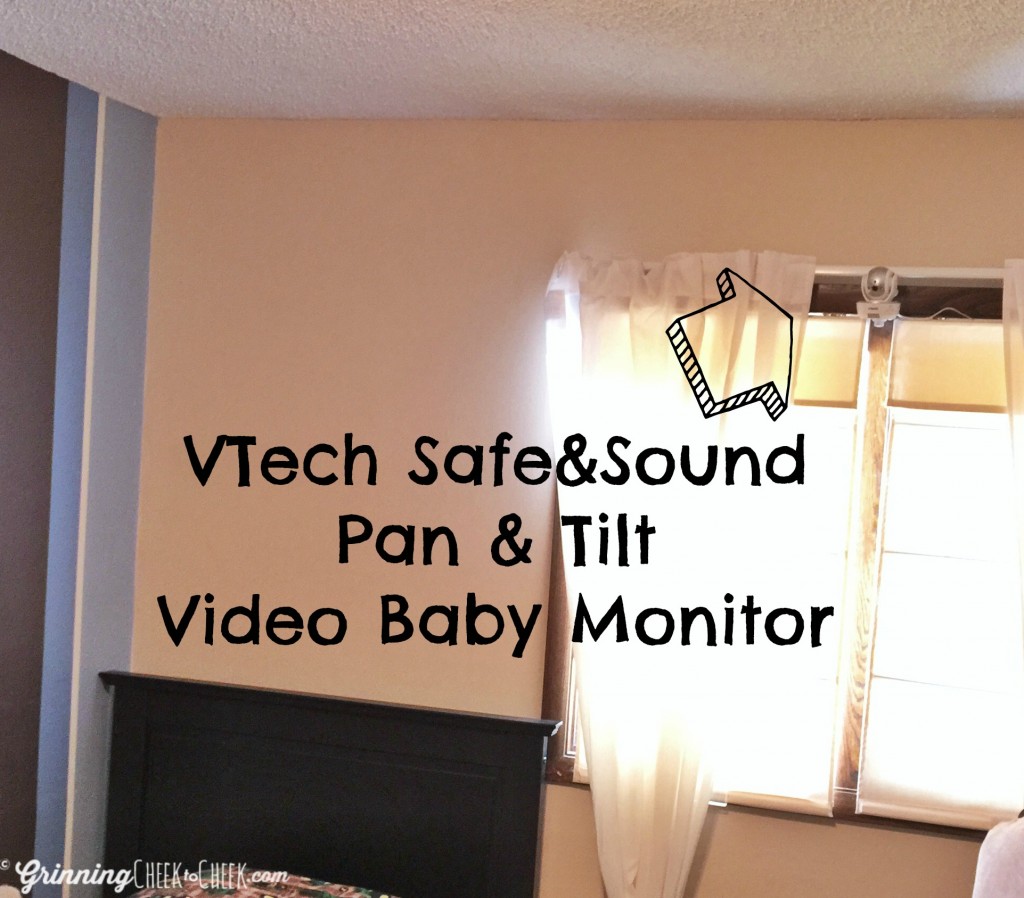 Because the camera can pan 270 degrees side-to-side, tilt as many as 124 degrees up and down and zooms up to 2x, I can see the whole room and whatever it is that my 4-year-old is getting into! The camera has full-motion video with up to 25 frames per second, making sure that you never miss a smile! There are two infared LEDs to help you see in the dark and a temperature sensor, which helps me be sure that my sons room is at a comfortable temperature.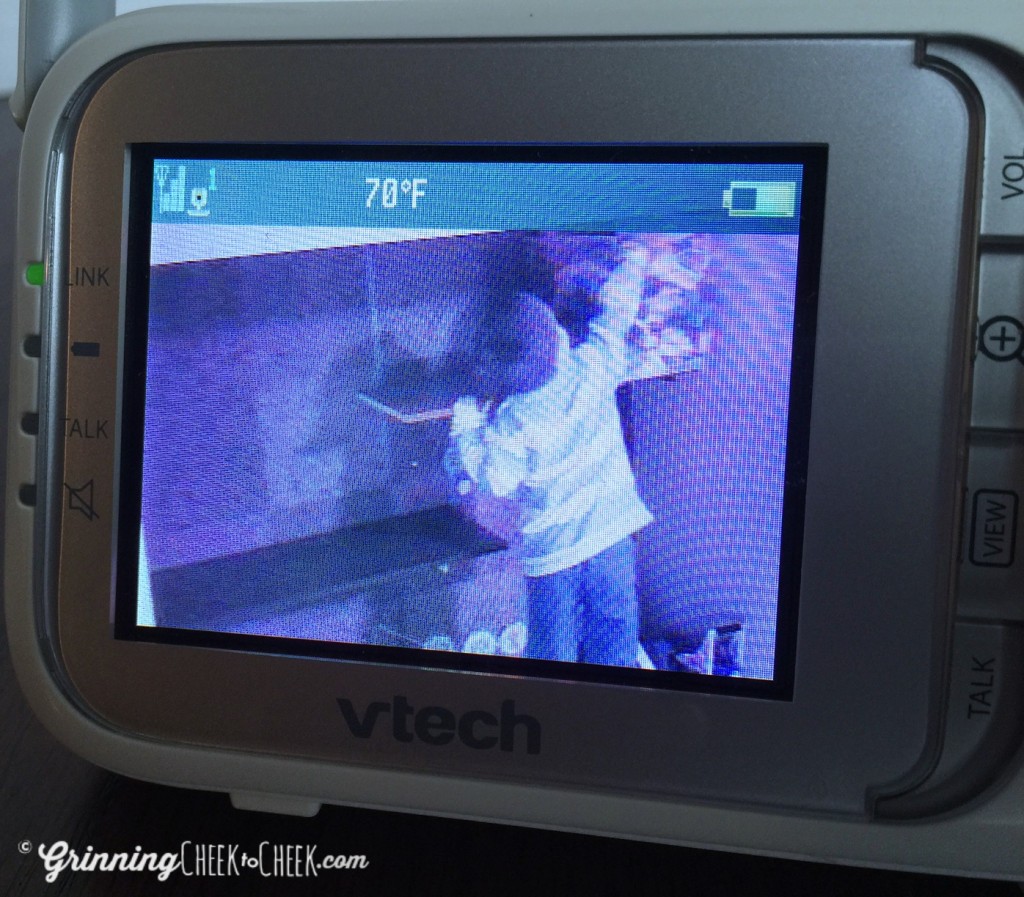 The monitor (Parent-Unit) can connect to up to four cameras, which makes it great if you have multiple children or have them in multiple areas of your home. The parent unit also has a vibrating sound-alert, which is a perfect feature for a busy mom of more than one child – keeping the unit quiet when necessary. The 5-level sound indicator will allow you to select how sensitive you want the monitor to be. It also has a 1,000 foot range allowing you to step away from baby for a little bit without worry. I spent many nap times outside in the front yard with my oldest, or gardening in the back yard: so I can be comfortable knowing that I will still know when he's awake.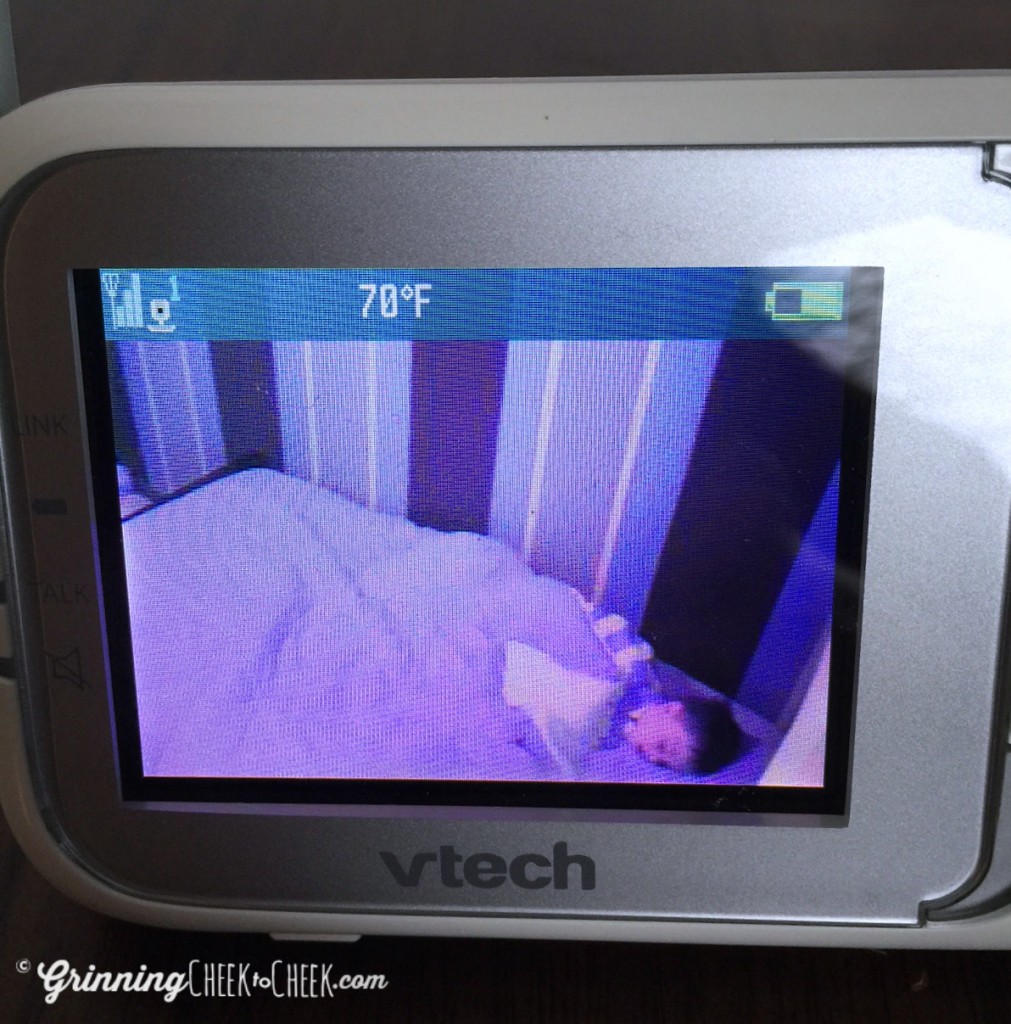 I love the talk-back intercom. It's actually something I have to keep my kids from playing with: but it can also be very useful. When I put my son down for a nap and then later saw him getting up to play with toys – I was able to tell him to get back into bed without having to walk away from what I was doing.
Overall the VTech Safe&Sound® Pan & Tilt Full Color Video Baby Monitor has everything a parent needs to be sure their little-ones (and big ones!) are safe and sound, whenever necessary. The VM333 VTech Safe&Sound Pan & Tilt Video Baby Monitor retails for a fair $179.
Twitter Party!!!
If you want your chance at owning a VTech Safe&Sound® Pan & Tilt Full Color Video Baby Monitor for free: join our Twitter Party this Wednesday February 18th at 1 p.m. ET. Follow the #VTechBaby hashtag and @TheMotherhood, @TMChatHost, @CooperMunroe, @EmilyMcKhann to participate. During the party, they will be giving away five nursery safety baskets featuring VTech Safe&Sound® Pan & Tilt Full Color Video Baby Monitors to randomly selected participants who answer the trivia questions correctly. Prizes limited to U.S. participants only. RSVP HERE: //vite.io/themotherhood