News Coverage
Who Needs a Video Doorbell?
May 16, 2013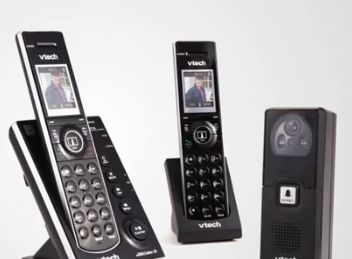 It took me awhile to figure out what the Vtech Video Doorbell was exactly.
Being Vtech, purveyor of inexpensive consumer-level landline phones, this had to be primarily a phone. But how on earth could I review this product when I have no landline?
Yes, according to a study by the Centers For Disease Control, as of 2012, between 34 and 41% of all U.S. households have only wireless phone service in their homes.
Painting my home exterior, I have religiously ripped out seemingly hundreds of yards of phone line tacked to the siding. So, how could I review something called a 2 Handset Answering System with Audio/Video Doorbell. Easy. Turns out this product has many different faces.
Choose Your Mode: Doorbell...
If you don't have a landline, don't despair: the video and intercom modes work independently of phone mode*.
Attach the video doorbell unit to the side of your front door, or the door itself, and you can see any house-callers remotely from the screen on your phone unit. The doorbell works either with AA batteries or hardwired AC. The distinction is important. In battery mode, you can attach the unit to your door; with AC, you cannot (how can you have wires running through and out of your door?). Are the two power systems the same? Not really.
One thing I didn't like is that, with battery power, the video on your phone can only be initiated by the person ringing the doorbell. But if you want to view someone outside without them first ringing the doorbell, you cannot do this with battery power: you need to hook it up to AC power.
Note that only you, the person inside the house with the phone unit, can see the outside caller; they cannot see you. Also, should you choose, you can select audio-only mode.
...Or Intercom?
Another neat feature is that it's an intercom. This allows you to call the other unit within the house. It's valuable when you're on the toilet and find that you've run out of toilet paper. What to do? Just call your son in the basement and have him rescue you.
I also discovered that you can open a line on the intercom, without the responding party having to pick up the phone unit. This means that it works much like a traditional intercom's talk/listen speaker feature.
Who Can Benefit From This
This product isn't for everyone. According to that CDC study, 60% of people in their twenties have no landlines. And that number is continually rising. Of course, this means that older folks are the ones with landlines.
While you can comfortably use two out of three features on the Vtech Video Doorbell, as mentioned above, do you really want a product with wasted features? Thus, you should buy this only if you have use for a landline phone.
Elderly people can greatly benefit from this product. It allows them to screen people calling at the door. Is it the UPS man? Then, it's worth getting up. Is it a gutter salesman? Maybe not.
Also, it can benefit others of any age who have wanted a video surveillance system for the front of their house, but are daunted by the idea of DIY-installing one of those complicated 10-camera units. Or daunted by the idea of hiring a security company. It's a cheap, easy entry point to a surveillance system, limited though it is (once again, you need AC power for this).
* Note:
Because of my lack of access to a landline, I was not able to test this product's phone feature and thus will not comment on it.
Disclosure: Review samples were provided by the manufacturer. For more information, please see our Ethics Policy.
Originally published on 2013-05-16 by Lee Wallender at
About Home
.