Product Support
Welcome to Product Support. Enter your model number to retrieve manuals, frequently asked questions (FAQs), troubleshooting tips, and additional resources.
Need help finding your model number? Take a look here.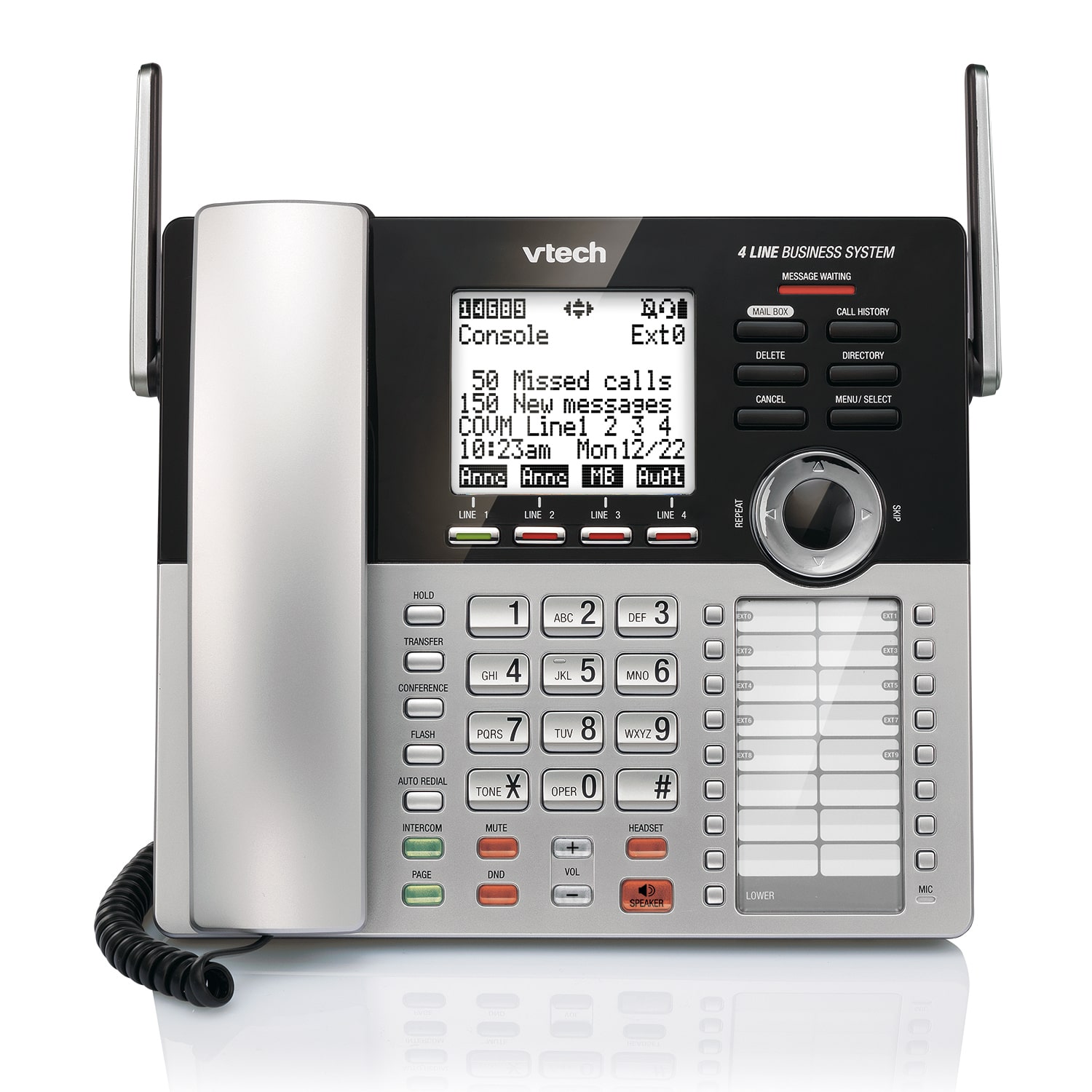 VTech 4-Line Small Business System Main Console
CM18445
Expandable up to 10 total stations (1 console and 9 desksets or handsets)
Frequently Asked Questions
What are the differences between the Build-in answering system in my telephone and the Voicemail service from the telephone service provider? How to choose between them?
Tip 1 of 1

For message recording, your telephone has a Built-in answering system, and it also supports Voicemail service offered by your telephone service provider(subscription is required, and fee may apply).

The main differences between them are:

BUILT-IN ANSWERING SYSTEM
VOICEMAIL SERVICE
SUPPORTED BY
Telephone system
Telephone service provider
SUBSCRIPTION
No
Yes
FEES
No
May apply
ANSWER INCOMING CALLS
•After 3 rings by default.
•It can be changed via handset or the telephone base menu.
•Usually after 2 rings.
•It can be changed by contacting your telephone service provider
STORAGE
Telephone base
Server or System
DISPLAY NEW MESSAGE
• Handset - XX new messages
• Telephone base - XX new messages
• Handset - and New voicemail • Telephone base -
RETRIEVE MESSAGES
• Press PLAY/STOP on the telephone base; OR
• Press MENU, and then select Play messages on the handset; OR
•Access remotely with an access code
• Press on the dialpad, and enter an access number from your telephone service provider.

Based on the above information, if you want to...

Use the built-in answering system to record your messages
Your Voicemail service can bundle in your telephone plan. As such, you would need to contact your telephone service provider to disable it.
*TIP: Can I switch back to Voicemail service if I want to?
As long as your telephone plan includes the Voicemail service, you can still re-enable it through your service provider.

Use the voicemail service to record your messages
Simply turn off the Built-in answering system at any time, and you can use the Voicemail service only.

Use both the Built-in answering system and the Voicemail service to record messages
By default, the Voicemail service is usually set to answer after 2 rings, while your Built-in answering system is set after 3 rings. Please check with your telephone service provider to learn how to set your voicemail settings.

Suggest to set your Built-in answering system to answer calls at least 2 rings earlier than your Voicemail service. In other words, if your answering system sets to answer after 3 rings (by default), then you need to set the Voicemail service to answer after 5 rings.

What happened is that if you on a call or the answering system is already recording, and you receive ANOTHER incoming call, then the third caller is able to leave a Voicemail message.
On the other hand, if you are not on a call nor the answering system is recording, the incoming caller can leave a message directly to the Built-in Answering system.
I am using my VoIP box to set up my wireless home phone and other network devices. All devices work normally except my phone, which has no dial tone/ displays Line in Use with busy tone/ poor sound quality. What should I do?
Tip 1 of 1

Despite your VoIP box shows full signal strength, there could still be no dial tone/ display Line in Use/ etc. This may due to the abnormality of signal and voltage levels. Follow this short video to reset your VoIP box and its connected devices.

(For non-IS8151 series - all other models) https://www.youtube.com/watch?v=mXbXl4froUc&t=25s

(For IS8151-X series) https://www.youtube.com/watch?v=rJ9PNkwBzfE&t=3s

[Background]
• VoIP box connected via SIM/ LAN connection.
• Some VoIP boxes have displays and some not. While displays show steady ON and ready, you might still experience with no dial tone sound/ display Line in Use.

[To Reset]
• Some Power off button does not fully power off the unit. It only put the VoIP box in standby mode. To truly power off, unplug the power adapter of your VoIP box.
• Disconnect all devices from the box. After a moment, reconnect your power adapter, and then press power button to turn ON.
• Wait until the VoIP box is steady ON and ready.
• Connect your telephone cable from your Telephone base to your VoIP box.

REMINDER!!!
• Make sure you didn't connect the telephone cable from the Telephone wall outlet to VoIP box telephone port!!! Doing so will not damage the device, but it will affect the call function and becomes unusable. This is why you experience no dial tone, Line in Use with busy tone, etc.
• During power outage, your landline phone will not be available since it requires external electric power despite your VoIP box has a backup battery.

If this situation persists, contact your VoIP / VoIP box service provider for further support.