VM344 Pan and Tilt Baby Monitor
Add style to your nursery, while following your little one's every move—day or night. Our new owl-shaped camera lets you securely see and hear every precious moment from any room in the house.
Features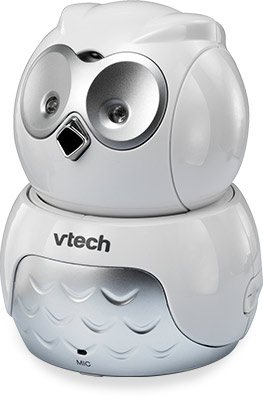 Baby Unit

Pan, Tilt and Zoom the Camera from the Parent Unit
Watch as your little one moves about. The camera pans up to 260 degrees side-to-side and tilts as many as 55 degrees up and down. Need more detail? The camera zooms up to 1.3x.

Automatic Infrared Night Vision
Two infrared LEDs automatically detect dim light, providing clear video even in dark roorns.

1,000 Feet of Range
Stay connected to your baby from another room or even outside with up to 1,000 feet of range so you can go about your day.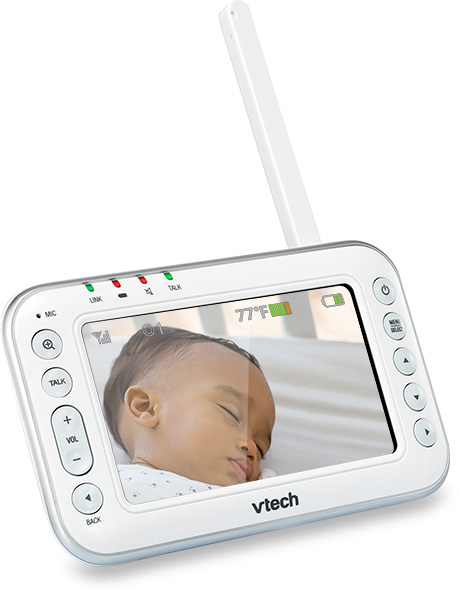 Parent Unit

High-Resolution, 4.3-Inch Color LCD Screen
Never miss a smile with the high-resolution, 4.3-inch color LCD screen.

Multiple Viewing Options
System supports viewing of up to four total cameras from one parent unit. Viewing modes include single view (one camera only), and patrol mode (single view that transitions to a different camera every 7 seconds) to keep an eye on as many as four rooms at once.

Full-Motion Video
With up to 20 frames per second, you can see your child's every move on clear, dynamic video.

Temperature Sensor
Keep your little one cozy. The temperature indicator on the parent unit lets you know when it's time to adjust the thermostat.
More Features
Secure Video and Audio Transmission
The signal is digitized and encrypted to protect your monitor from interference, ensuring video and audio transmission is private and secure.
Vibrating Sound-Alert on the Parent Unit
Enjoy some added peace by being silently alerted when there is sound in your baby's room.
Talk-Back Intercom
Sometimes all your baby needs is to hear the sound of your voice. Comfort your infant from any room with the built-in intercom on the portable parent unit.
Sound Activation Mode
Save power by monitoring with the screen turned off, and be alerted when there is a noise in your child's room. The parent unit beeps and automatically resumes video playback so you know when to check in.
9-level Sound Indicator
Graphic bars on the parent unit indicate the level of sound in your baby's room so you can visually monitor the noise level with the unit muted.
Wall-Mount Bracket
Easy wall mounting with a built-in cord storage compartment means you can easily change the position of the camera so your baby is always in full view.
Volume Control
Adjust the volume to your preference.
Featured Products