VM333 Pan & Tilt Full Color Baby Monitor
Hear every sound your little one makes, and see every step they take from any room in your home. Watch as your toddler moves about with the all-new pan and tilt feature, plus zoom in up to 2x to see even more detail.
Features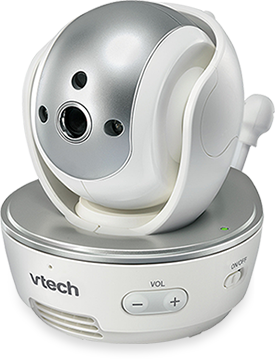 Video Baby Unit

Infrared LED
View your baby at night without disturbing them.

Pan, Tilt and Zoom
Watch as your little one moves about. The camera pans up to 270 degrees side-to-side and tilts as many as 124 degrees up and down. Need more detail? The camera zooms up to 2x.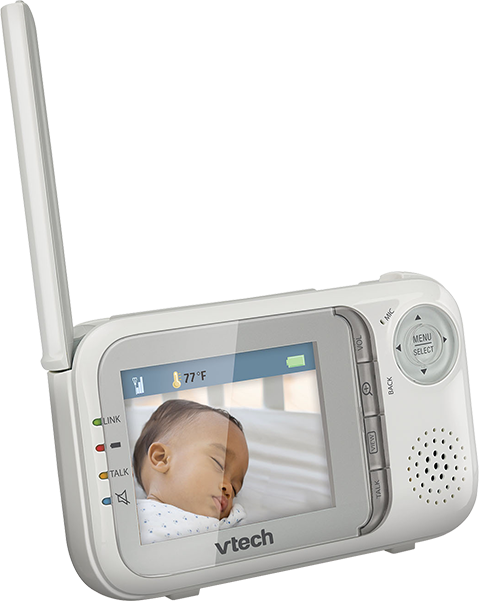 Video Parent Unit

Multiple Viewing Options
Choose between single view (one camera only), split view (cycles through cameras on single view before stopping on split view) and patrol mode (single view that transitions to a different camera every 7 seconds) to keep an eye on as many as 4 rooms at once.

Full-Motion Video
With up to 25 frames per second, you can see your child's every move on clear, dynamic video.

Temperature Indicator
Keep your little one cozy. The temperature indicator on the parent unit lets you know when it's time to adjust the thermostat.
More Features
Large Color Screen
Never miss a smile with the high-resolution, 2.8-inch color LCD screen.
Talk-Back Intercom
Sometimes all your baby needs is to hear the sound of your voice. Comfort your infant from any room with the two-way intercom on the portable parent unit.
Vibrating Sound-Alert on the Parent Unit
Enjoy some added peace by being silently alerted when there is sound in the baby's room.
Digital Transmission
This 2.4GHz system digitally transmits audio and video signals, so you can rest assured the only sounds you-and only you-will hear are your baby's.
5-Level Sound Indicator
Graphic bars on the parent unit indicate the level of sound in your baby's room so you can visually monitor the noise level with the unit muted.
Featured Products