Cellular calls — without the compromises
Thanks to Connect to Cell technology, you can say goodbye to dropped signals and annoying static on cellular calls at home. By pairing your mobile phone to one of these easy-to-use systems, you can make and receive cellular calls with your home's strongest cellular signal and high-quality sound.
VTech® Connect To Cell™ Cordless Phone Technology
VTech® Connect to Cell™ Cordless Phone Systems — Interview with David Waterman, Design Director
VTech® DS6671-3 Connect to Cell™ Cordless Phone System
VTech® DS6671-3 Cordless Phone System: How to Use the Connect to Cell™ Features
BENEFITS
Cellular and landline calls
Pair your cell phone using Bluetooth® wireless-enabled technology and enjoy cellular calls with all the comforts of a home phone system. Need to charge your mobile phone in another room? No problem. Calls ring on all handsets, so you can make and receive cellular calls even when your cell is across the house.
Product Review
"... I can get the features I need in my land line phone from my cell phone ..."
- Makobi ScribeRead complete review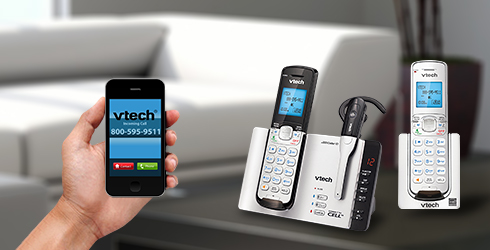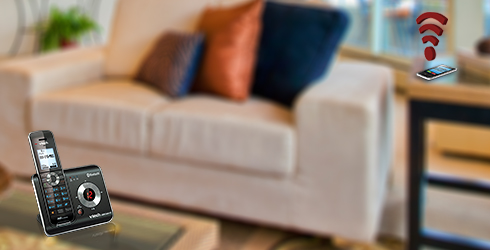 Leverage your best signal
Take advantage of your home's strongest cellular signal. Just place the base unit where cellular reception is best, and enjoy clear cellular calls using your cordless handsets anywhere in your home.
Product Review
"... you can extend your mobile coverage by eliminating dead spots at home, while accessing your mobile contacts from any handset, which pairs seamlessly with your smartphone."
- Pittsburgh Better TimesRead complete review
FEATURES
Make and Receive cellular and landline calls

Connect to BLUETOOTH®-enabled cellular phones to make and receive cellular calls with the ease and comfort of a home phone system. Avoid the mad dash to catch your cellular call before it goes to voicemail.

No Landline Required

Cutting back on landline costs doesn't have to mean skimping on landline quality. Since Connect to Cell technology works with or without a subscription to your local telephone company, it's great for cellular-only households, too.

Download Mobile Contacts

Have a hard time remembering phone numbers? With Connect to Cell, you don't have to. Pair hundreds of names and numbers from your cellular phone and always have all your contacts on hand.
SAVE 70%
ON A RETRO HANDSET WHEN YOU BUY A CONNECT TO CELL™ PHONE SYSTEM
Discount automatically applied when you add a Connect to Cell phone system and an LS916 to your cart. Discount will not appear until both qualifying items are in cart. Offer valid only at vtechphones.com. Offer cannot be combined with any other offer or online promotion. Not valid on non-Connect to Cell products, or the following products: Connect to Cell accessory handsets, accessory headsets, or the MA3222 Bluetooth DECT speaker. Offer subject to change without notice. Not valid for cash or cash equivalent. Other terms and conditions may apply.
FEATURED PRODUCTS
*
Use of Caller ID feature requires a subscription to Caller ID services available though your local telephone company.
*
Connect to Cell™ is a trademark of VTech Communications, Inc.
The BLUETOOTH® wordmark and logos are registered trademarks owned by Bluetooth SIG, Inc. and any use of such marks by VTech is under license.